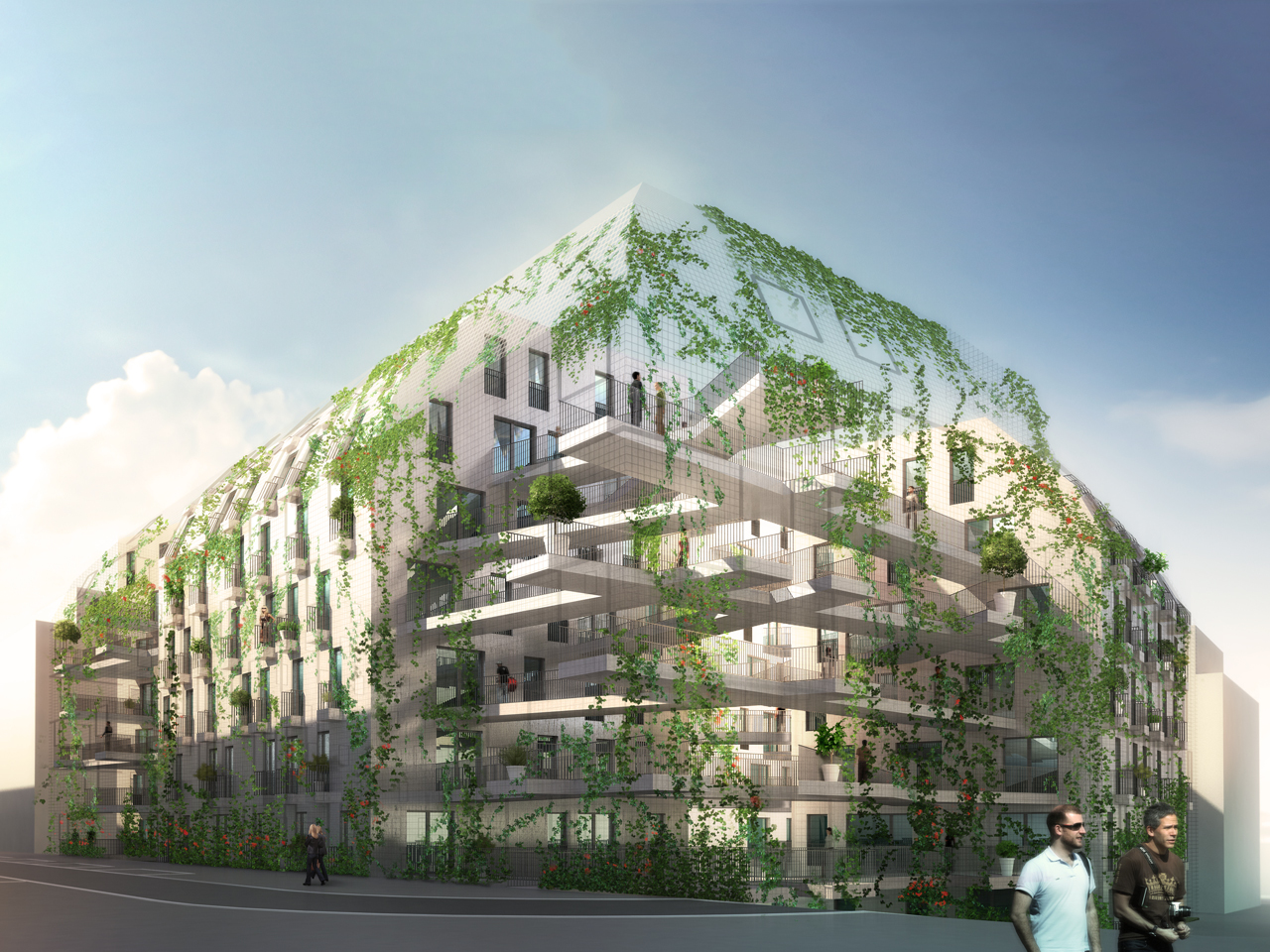 Green Haussmann
MVRDV's design for social housing in an area of urban regeneration in Central Paris proposes an evolution of the Haussmannian block into a green, transparent, vertical neighbourhood. The 11.800 m2 building includes 100 units, each with a dual aspect and at least one balcony, arranged around four cores, in addition to parking and a kindergarten and a generous communal square.
Location

City

Paris

Year

2010

Surface

11800 m²

Client

SOEDARIF (SODEARIF (Société d'Etudes, d'Aménagement et de Réalisations Immobilières et Foncières) and SNEF Promotion (Espaces Ferroviaires SNCF), France

Status

Design

Programmes

Themes
The area of Pont Cardinet Station is undergoing significant urban regeneration, with new housing, offices and a highschool being built on the former industrial area and railyards. The tapering site is shielded by an office building from the train tracks, and will eventually be connected to the city with a second block of housing on the other side. It is located relatively close to the periphery, but is still surrounded on one side by classic Hausmannian boulevards and blocks. How to relate to this historic environment? How to improve the quality of social housing within budget limitations? How to create limited cost housing which is socially, architecturally and environmentally innovative?
The method to achieve these ambitions uses four key principles: 16 apartments per floor clustered around four cores, a porous block structure, a lattice of balconies which add outdoor space and the possibility of interact, and a green trellis separating the building from the street and creating a favorable climate. Separating the volumes from one another gives each apartment two facades, allowing more natural light and offering better views from different angles. Multi- orientation also allows exposure to sunlight at different times of the day, bringing the daylight into the apartments and making them a much more enjoyable living environment. The organization around four cores avoids corridors which are an intrusion on the privacy of residents. It also helps to form a small shared hall, which increases the quality of space and sense of security.
The criss-crossing balconies and walkways which characterize the proposal create high quality, sheltered outdoor spaces, two metres in width, for the residents. Some balconies connect multiple apartments, allowing shared spaces and the proverbial request for and egg by neighbours. Together, these balconies form a three-dimensional network of outdoor spaces. A three-dimensional garden, which combines privacy and collectivism. Some of the balconies are supported by a latticework made from recycled plastic and metal, surrounding the entire building. The transparent volume reinforces the block's urban volume, and allows plants to grow and creating a green block. It creates an additional wall , isolating the island acoustically and thermally. The block becomes a green and transparent continuation of the Haussmann typology, anticipating the development of further interpretations and permutations on the model.
© all rights reserved