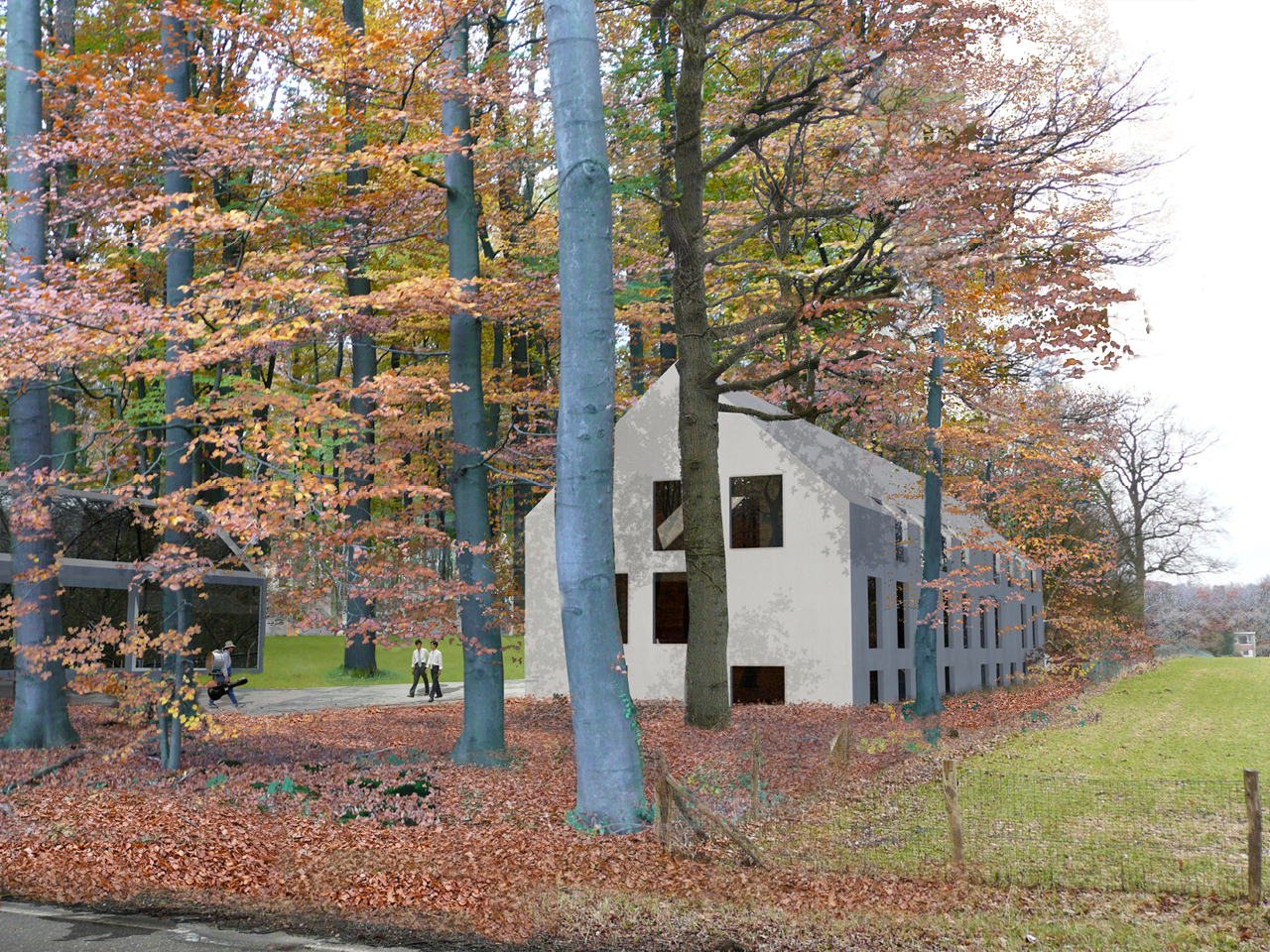 Buitenplaats Koningsweg
MVRDV's masterplan for the site of Buitenplaats Koningsweg, a former military barracks which is now a cultural enclave on the edge of the Hoge Veluwe National Park, attempts to unify the diverse structures and landscapes of the site and provide a blueprint for their future development. The wide variety of buildings and exceptional natural environments encompassed by the site require a light touch approach and a clear set of guidelines for renovations, extensions, landscaping, boundary walls and other functional elements. The masterplan provides a vision for the site's physical development which makes readable layered structure of the historic site.
Location

City

Arnhem

Year

2010

Surface

145000 m²

Client

Buitenplaats Koningsweg BV, Arnhem, The Netherlands

Status

On site

Programmes

Themes
KKN and ZP are two former military complexes built by the Germans during the Second World War. Both are as an ensemble National Monuments. As remnants of the war times, the site is still occupied by aircraft hangars, barracks and concrete bunkers disguised as farm houses. The site is located in the middle of the Veluwe, the largest continuous low land nature area in Western European, north of the city of Arnhem. Between 1950 and 1989 some buildings were removed and new buildings were added.

The campus-like creative character of the site will be the framework for the area's transformation in a working and living quarter. By creating a new North-South line as a cultural corridor Arnhem will be connected to the Veluwe again. This line will connect the world famous ensemble of nature (National Park de Hoge Veluwe) and culture (Krőller-Muller Museum, Burgers Zoo, Open Air Museum) with two parks in Arnhem, Sonsbeek and Zypendaal. KKN and ZP will become the Northern terminal of the cultural corridor.
Buitenplaats Koningsweg Noord will be transformed into an area with flexible offices spaces and housing. Zeven Provincien will be transformed into a residential area consisting of a large house and 7 patio houses. The forest and heath area will be transformed into an artist-in-residence, ateliers, offices, congress space, restaurant, reception and living spaces.

MVRDV's masterplan for the cultural enclave Buitenplaats Koningsweg, a former military site which is now a cultural enclave on the edge of the Hoge Veluwe National Park will create a uniform and consistent approach to strengthened historic qualities, the contrast between the new developments and the existing military monuments will be made visible again. The forest and heath will be continued through the site and the two historic enclaves Buitenplaats Koningsweg Noord en Zeven Provincien will be cut out from the nature. New developments and reconstructions at various scales both for nature and buildings will be developed by strictly applied greytones.
The interventions range from dark grey for the new developments, additions and adaptions in order to stay on the background and light grey for the reconstructions exposing the bunkers' concrete structure to new insertions to highlight the existing historic site. In the forest and heath area, follies can be developed with camouflage as the main concept like tree housing and housing under the ground disappearing into the nature. The aim of the masterplan is to reveal the historic layering of interventions in the landscape through subtle differentiations. The patio houses will be developed in dark grey. Existing lanes, trees and squares and will be renovated. The historic old lane will be reconstructed in light grey. All buildings will have a base in dark grey creating a threshold, which can as well be used as a stoop. The nature will become the garden.

MVRDV's masterplan provides a vision for the site's physical development which makes a readable layered structure of the historic and monumental site. In this way, the historical importance of Buitenplaats Koningsweg can be preserved while continuously being developed and upgraded as a living and working environment.

More information about Buitenplaats Koningsweg can be found here: https://www.buitenplaatskoningsweg.nl/
© all rights reserved
Architect
Principal in charge
Design team
Strategy & Development
Copyright
Partners