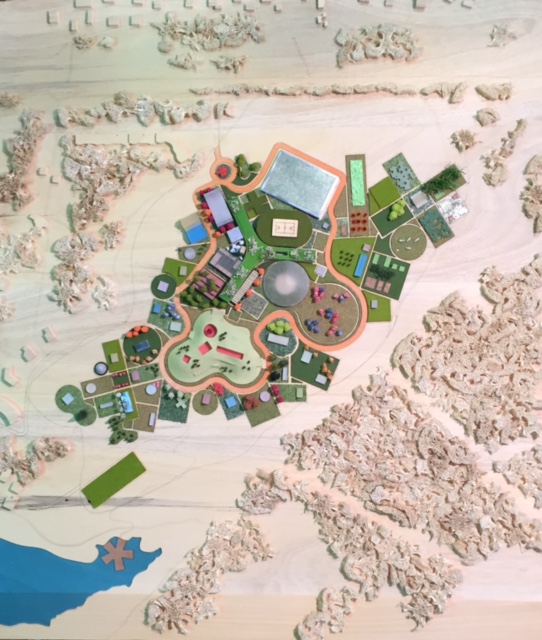 Smart School
MVRDV's response to a new Russian Smart School initiative comes in the form of an educational facility in Irkutsk. Combining idealism with realism this project forms a hybrid of both city and landscape, and sets its main goal as teaching about the diversity and challenges of life. A combination of different programmes, shapes, colours and technologies are inter-woven with natural environments, turning the site into a catalogue of ideals.
The Russian initiative of Smart Schools aims to redefine the educational system to better reflect the experiences of real life. The purpose is to create an environment which brings together life´s excitement, beauty and challenges, whilst also making students aware of the struggles involved in the real world. The answer to this is to create a school which combines idealism with realism; which sits somewhere between a city and a landscape; and that teaches of the diversity of life. The scheme combines the simple ideals of learning, living and landscape to bring all the most important ingredients together in the most vivid of manners. A combination of different programmes, shapes, colours and technologies are inter-woven with natural environments. In doing so, each area obtains its own beauty; non-hierarchical, just pure, functional and beautiful, whilst the site as a whole becomes a catalogue of ideals.
The Smart School comprises of three primary elements, a pre-school, junior school and a senior school; surrounded by additional facilities including theatres, sports facilities, restaurants and offices. A main school facility is raised off of the ground, opening up beneath it a large public space capable of holding markets, street performances, lectures and exhibitions. The space opens out from the school buildings giving students a chance to experience this urban environment safely protected from the often harsh Irkutsk climate. The space primarily aims to merge all aspects of public life with the educational environment, preparing students for the complexities of the outside world.
Across the site, buildings are immersed in a natural environment and by doing so an ideal composition is achieved. Spaces between elements form a pattern of weaving paths and streets; no primary axis but a natural puzzle of routes. The lack of fixed layout allows the users to determine how these spaces are developed and enriched over time. The same is true for the rest of the scheme, where adaptability is key. The project breaks away from the classic conceptions that this has to be through neutrality and modularity, and brings to the table the idea of adaptation over time based on a buildings unique character. Every layer of change adds to the evolution and future history of the school. The model also has to be flexible enough to be appropriate to other future Smart Schools in Russia, where landscape and lifestyles may vary and where the school itself may have a different journey altogether.
© all rights reserved