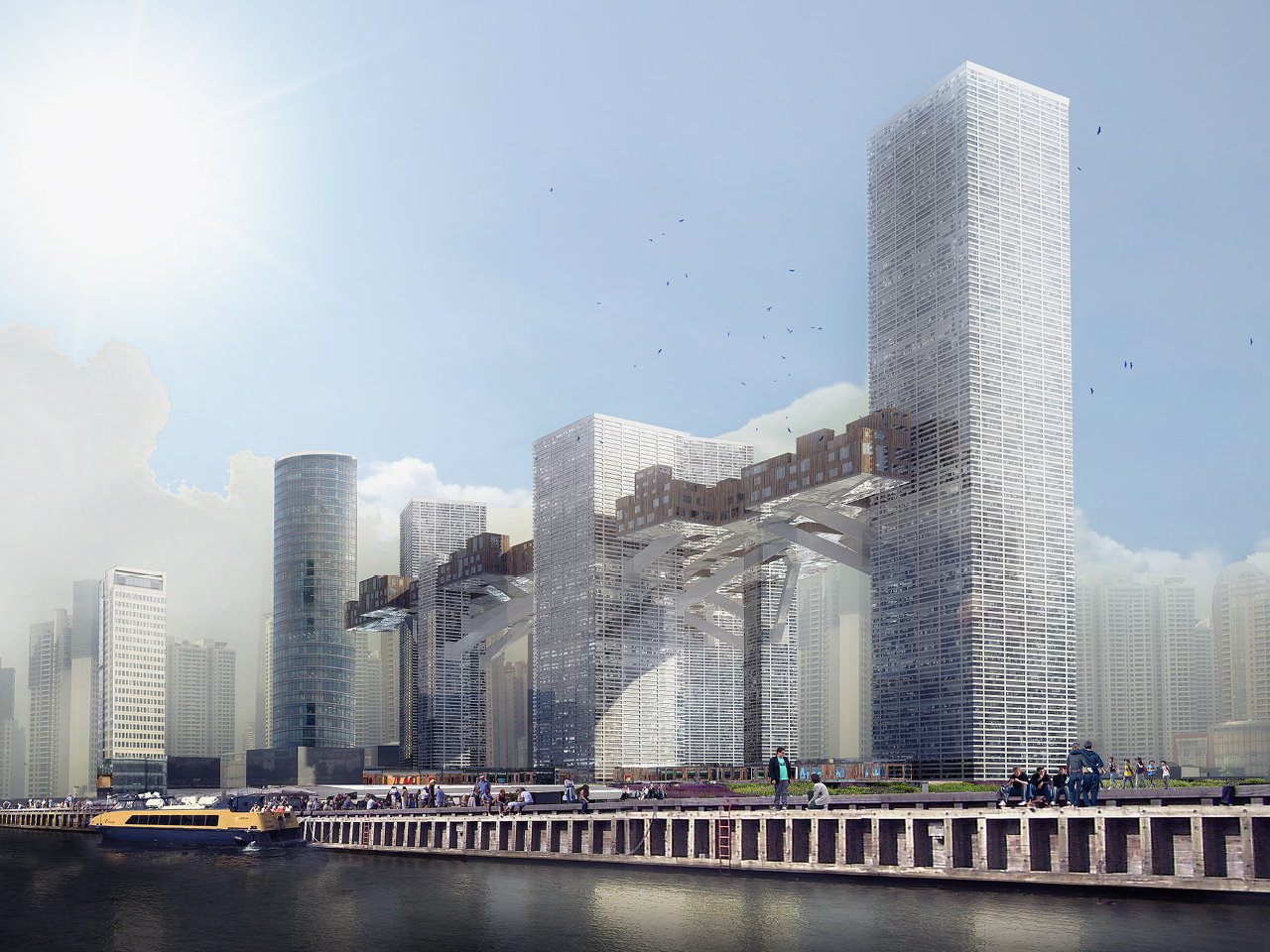 The Lifted Village
MVRDV's Lifted Village gives China's largest city a new centerpiece by adding an International Financial Centre to the end of Shanghai's historical waterfront, The Bund. The design combines two typologies, representing China's past, its urban villages, and its future, the tower. The result is a new typology which creates unprecedented spatial richness and variety, while providing a unique mix of typologies.
Location

City

Shanghai

Year

2011

Surface

360000 m²

Client

Shanghai Zendai Real Estate Co, Ltd.

Status

Competition

Programmes

Hotel , Offices , Retail , Residential

Themes
The development of the new Bund International Financial Center is situated at a prime, indeed crucial location for Shanghai, at the junction of numerous districts containing different urban typologies and characters. The 4,5 ha site faces the downtown area of Pudong in the South, and extends towards the historical Bund in the north. West of the site is the traditional YuYuan commercial zone and Old Town of Shanghai.

The proposed 370.000 m2 mixed-use de­velopment consisting of offices, apartments, a hotel and commercial facilities, poses the question of how to extend the historical Bund, whilst addressing these differ­ent areas respectively. MVRDV's concept extends and combines the characteris­tic typologies of the old town, with its dense cluster of al­leys, with those of the new Pudong CBD and its towers.
The concept continues the old town alley typology to the river and the Bund, serving as a human scaled base to accommodate the new program of shops, housing and hotels. To accommodate the required program, two sets of buildings in this pattern are created; and a 100 metre void occurs between them. Two levels, or 'villages', emerge, one at ground level, and one lifted high above.

The small scale typology is monumentalized: a village in the sky. Parking and com­mercial facilities remain within the level on the ground in order to ensure easy access and public activity.
The lifted 'village' is structurally supported at six points: four main high-rise towers of varying heights, up to 180m, three of them accommodating offices, the other apartments. The two smaller towers function as circu­lation towers only, one providing access to the raised hotel, the other to the housing neighbourhood.

Branch like structures between the lifted 'village' and the high-rise towers serve as fire escape stairs, whilst providing secondary structural support. Not only does the develop­ment offer new living and working environments, but also an enhanced quality of public life, high above the city.
© all rights reserved