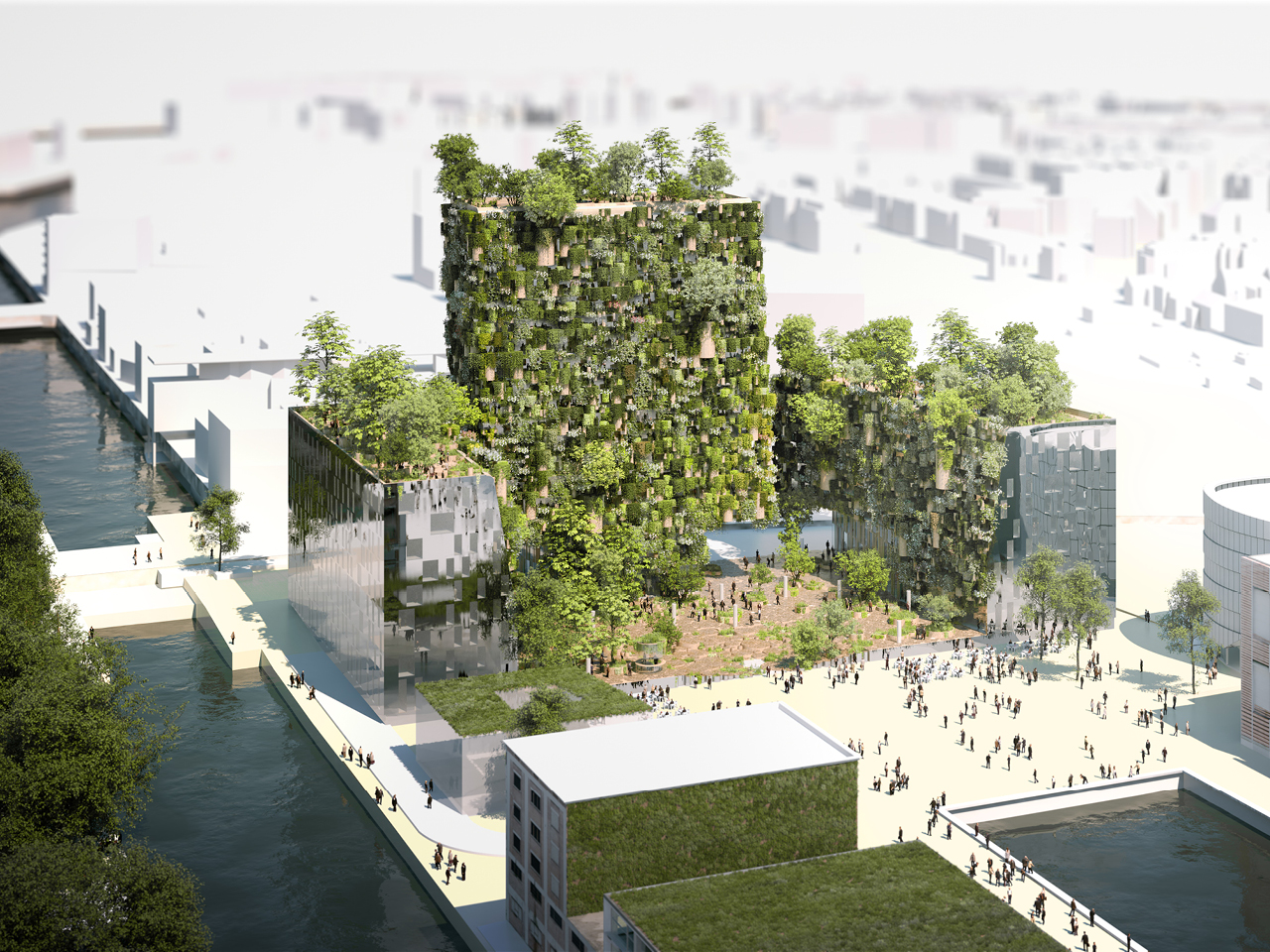 Chaise Urbaine
MVRDV's proposal for the site at the head of a large harbour in Strasbourg gives a strong urban presence to the mixed use program of housing, offices, hotel and retail, while creating a monumental public space befitting the setting. The project is also an attempt to realise a truly green facade, with an ingenious system of integrated pots fed by a rainwater system, which provide plants for their shading, cooling, and aesthetic values.
Location

City

Strasbourg

Year

2012

Surface

31000 m²

Client

ICADE, Paris, France

Status

Competition

Programmes

Themes
The harbour basin of Austerlitz is undergoing an impressive transformation as part of the Strasbourg-Kehl region. The availability of large former warehouses on the water, close to the historic center of Strasbourg, and well connected by transport are making the area an attractive place to live and work. The currently empty Eastern end of the Basin is the challenging site for this proposal: how it can be developed as a coherent whole urbanistically, while providing a suitable gesture architecturally at the Eastern termination of the harbour.
Regeneration plans for the western part of the basin have been discussed at length, demonstrating local desire to improve the area. A decision was made to restrict the height of the new building, and ultimately lead to the program being split into three separate volumes. MVRDV's ambition was to use these volumes to create a strong presence befitting the prominent site, and to create a public space, great views, and buildings that integrate and contribute to their context. The program of the mixed-use development features almost 50% housing, some of which is social-housing, offices, a hotel, a nursery and a limited amount of commercial space, in addition to a large public square.
The buildings are optimised to create as much light as possible, as well as a monumental public space facing the basin. In contrast to the former industrial area around it, the development is covered in nature: an innovative system of pots on terraces creates a vertical garden, with different pots of different sizes and materials containing plants of varying sizes, including trees. The plants are watered via an integrated system, and provide a mediating effect on wind and sun for the apartments, offices and hotel, as well as a visual richness unmatched by manufactured facades. The terraces which they occupy become pleasant outdoor spaces filled with nature, and the effect of the whole is of a welcoming urban 'chair' supporting both people and plants.
© all rights reserved