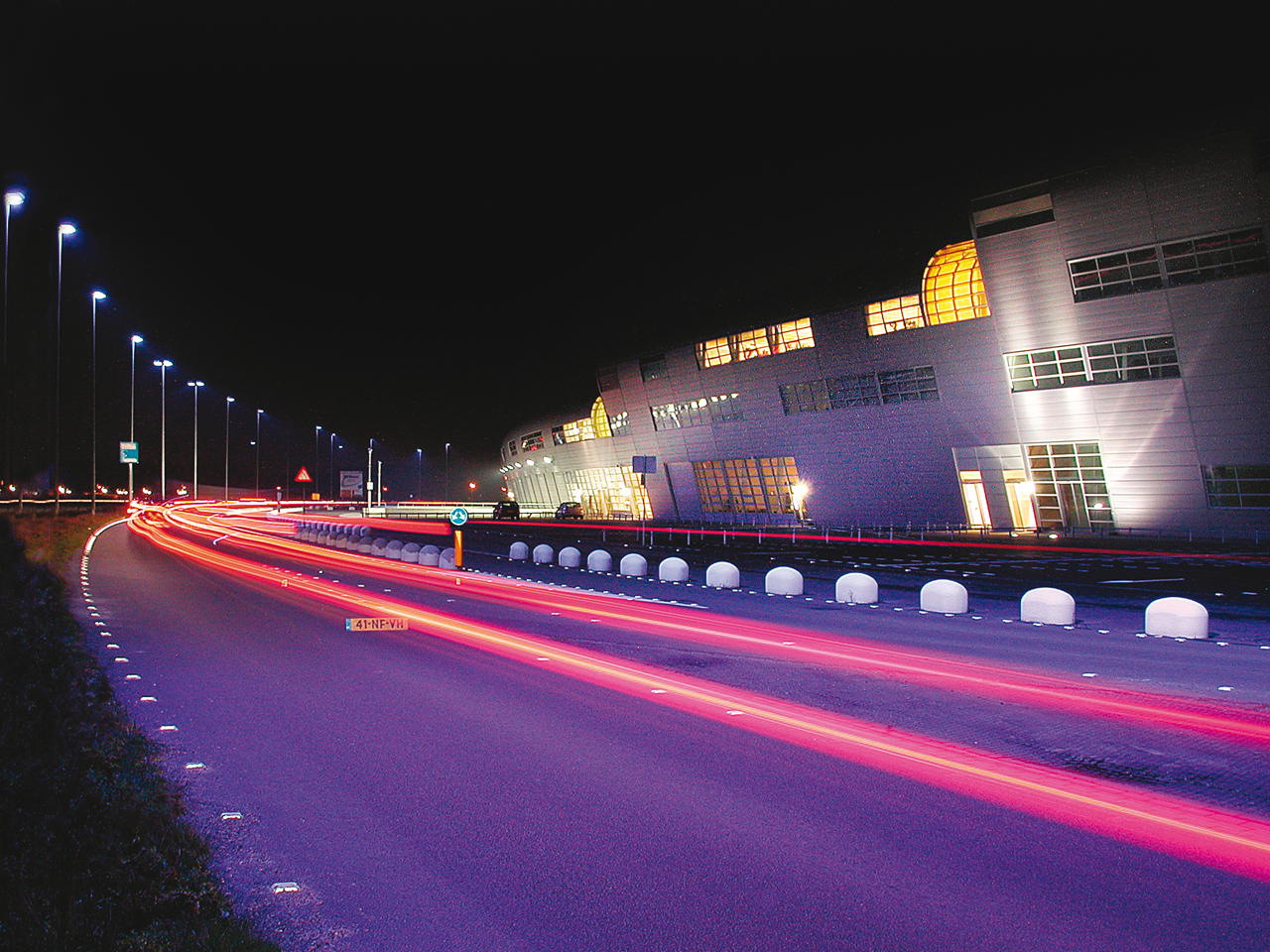 Flight Forum
Flight Forum is an industrial and business park situated next to Eindhoven airport, occupying abandoned parts of an air force base. Typically these areas are characterized by low levels of land occupancy, with developments undefined, sprawling and unattractive. The Flight Forum erects buildings wall to wall, creating conglomerates surrounded by continuous lots for loading and parking. Through clustering the buildings, a series of islands is created which gives greater continuity to the landscape.
Location

City

Eindhoven

Year

2005

Surface

660000 m²

Client

Flight Forum C.V., Eindhoven NL

Status

Realised

Programmes

Themes
Flight Forum is situated next to Eindhoven airport, occupying abandoned parts of an air force base. 60 hectares were destined to house business and office developments. Industrial parks in Holland are generally characterized by fenced off plots where a relatively low amount of land is actually occupied by buildings. These areas are surrounded by waiting/retaining zones with temporary storage and simple and often haphazard landscaping and green elements.

The appearance of these areas does not seem to be in balance with their economical importance. Not a single alderman is however willing to improve the development of these areas fundamentally, not to impede the growth of local employment. In the meantime vast terrain are awaiting definitive occupation, sacrificing urban quality standards.
About 70 percent of business areas is divided into plots and sold. The increasing privatization of this division generates an undefined and unattractive sprawl. Only 45 percent of plot area is actually occupied by buildings. The breakdown of Flight Forum is defined by the same division of 45% built area and 55 % void of plot area. By erecting buildings wall to wall, eliminating 3 out of 4 façades, conglomerates emerge surrounded by continuous lots used for both loading and parking. The image generally associated with front yard parking guarantees a high quality layout. Clustering of buildings allows for greater continuity of landscape.

The main access road which is part of a greater ring road system is split up in two directions and stretched allowing for greater comfort and safety. Moreover this generates the opportunity of offering more addresses on the main road which makes perfect sense from a business point of view. All plots have prime real estate values. By further stretching and curving both driving lanes the amount of addresses is increased. Loops and curves can be modeled and molded to house the entire programmatic surface. All plots are accessed from this single access system.
Through designing curves at 50 km/h a supple and swift route is created, eliminating all traffic lights, increasing the accessibility of the site. This elasticity principle can be regarded as an instrument of flexible planning.

The asphalt spaghetti and the bedrock shapes of business clusters leave open a series of 'islands'. By landscaping each island in a distinctive manner a mosaic is created. The landscape mosaic allows for ecological connections in this sensitive environment. This kaleidoscope of differences is tied together by the continuity and uniformity of the asphalt. At night the clusters are lit by daylight illumination, giving the area a 24 hour appeal.

VISIT
Flight forum is a business park and therefore members of the public are unable to access the office spaces. However, visitors are welcome to walk around the external areas of the site.
Address: Flight Forum, 5657 Eindhoven

AWARDS
Best Dutch Business Park 2006, The Hague, NL.
Dutch Mobility Award 2006, The Hague, NL.
© all rights reserved