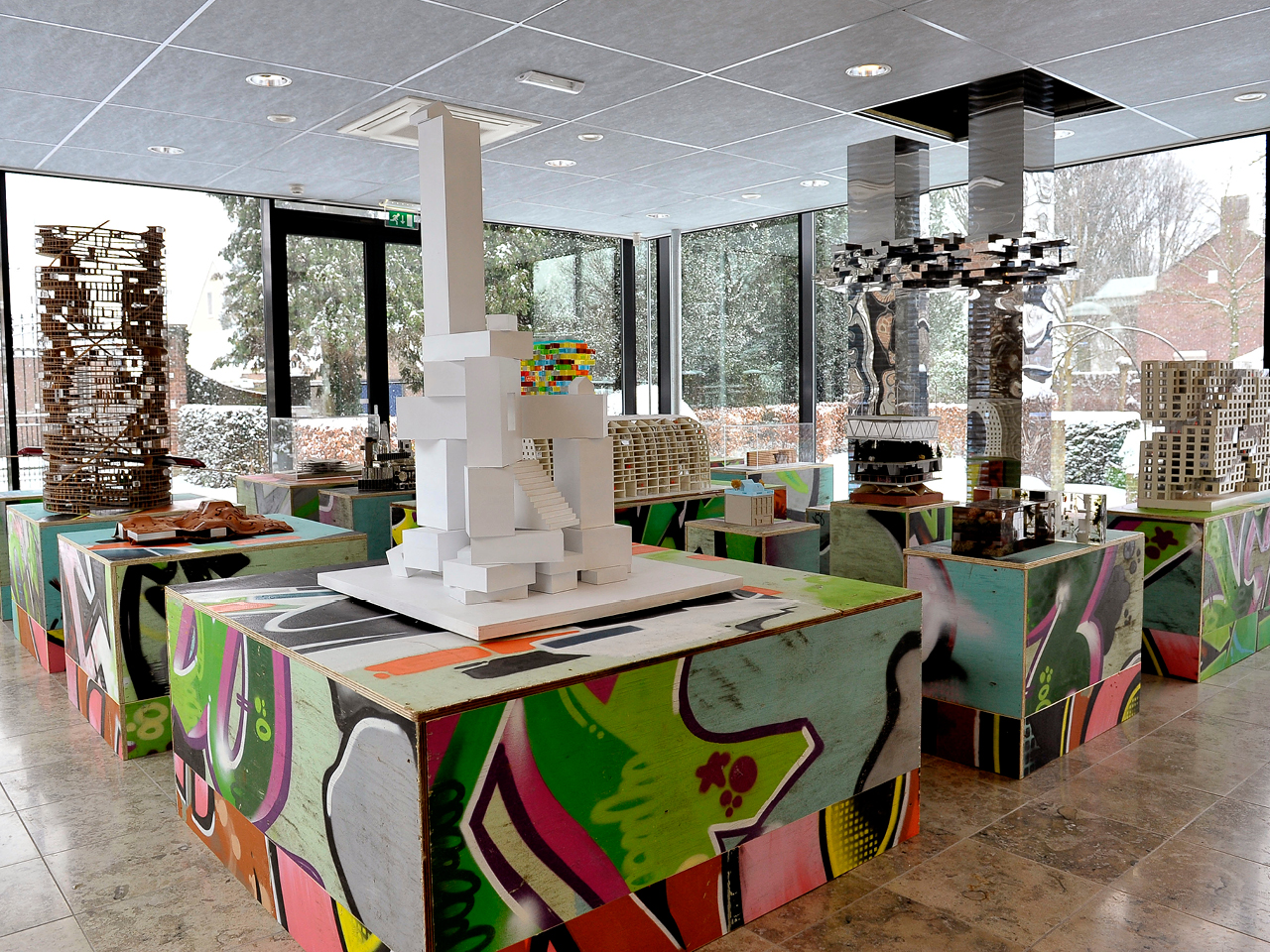 Waar?!
This exhibition explores the relationship between context and authenticity in relation MVRDV's Glass Farm , a hypercontextual building inspired by the local farm typology, yet surprising for its scale and materiality. A series rooms in the museum show the development of the Glass Farm and present studies of the local farm typology through historical drawings and photographs. The exhibition also includes 18 models of key projects from MVRDV's archive, such as 'Market Hall', 'Book Mountain' and 'Glass Farm'
The co-founding of MVRDV is director Winy Maas who grew up in Schijndel. The Glass Farm is inspired by Schijndel traditional farmhouses, of which an 'average' image was created to be printed on the building's exterior glass. The building explores the interaction between past and present, as the historical inspiration becomes a modern, glass building, whose scale is 1.6 that of the original, giving slightly surprising effect. Many people can hardly believe what they are seeing when in front of the Glass Farm. What is it? What technology has been used? Why is it out of scale? And what type of architect would build such a thing? The exhibition tries to answer these questions for the public.
Amidst the historic interiors of the house of famous Schijndel-born artist Jan Heesters (1893-1982), is a wide collection of material which explores the long history of the building's design and realization. Newspaper clippings illustrate the reception of the design's seven iterations in the local press. Historical photos, drawings and archival records display the way in which the 'average farmhouse' was created. A scale model of the proposal, made from the same image-fritted glass as the building itself is also on display.
Winy Maas also asked local artists Jeanne van Heeswijk, Jeroen Kooijmans and Hester Oerlemans, who grew up in Schijndel, to contribute to the exhibition with selections from their work. Also on display are high quality scale presentation models from MVRDV's collection, to give a sense of the firm's ouvre as the professional context of the Glass Farm. Models on display include the projects Villa VPRO, Expo 2000, The Cloud, Didden Village, Ministry Of Agriculture, La Coruna Station, Jinlin Tower, Chengdu Theatre, DNB Headquarters, The Pushed Slab, Balancing Barn, Market Hall and The Book Mountain.
© all rights reserved
Architect
Principal in charge
Design team
Strategy & Development
Curator
Co-curator
Copyright