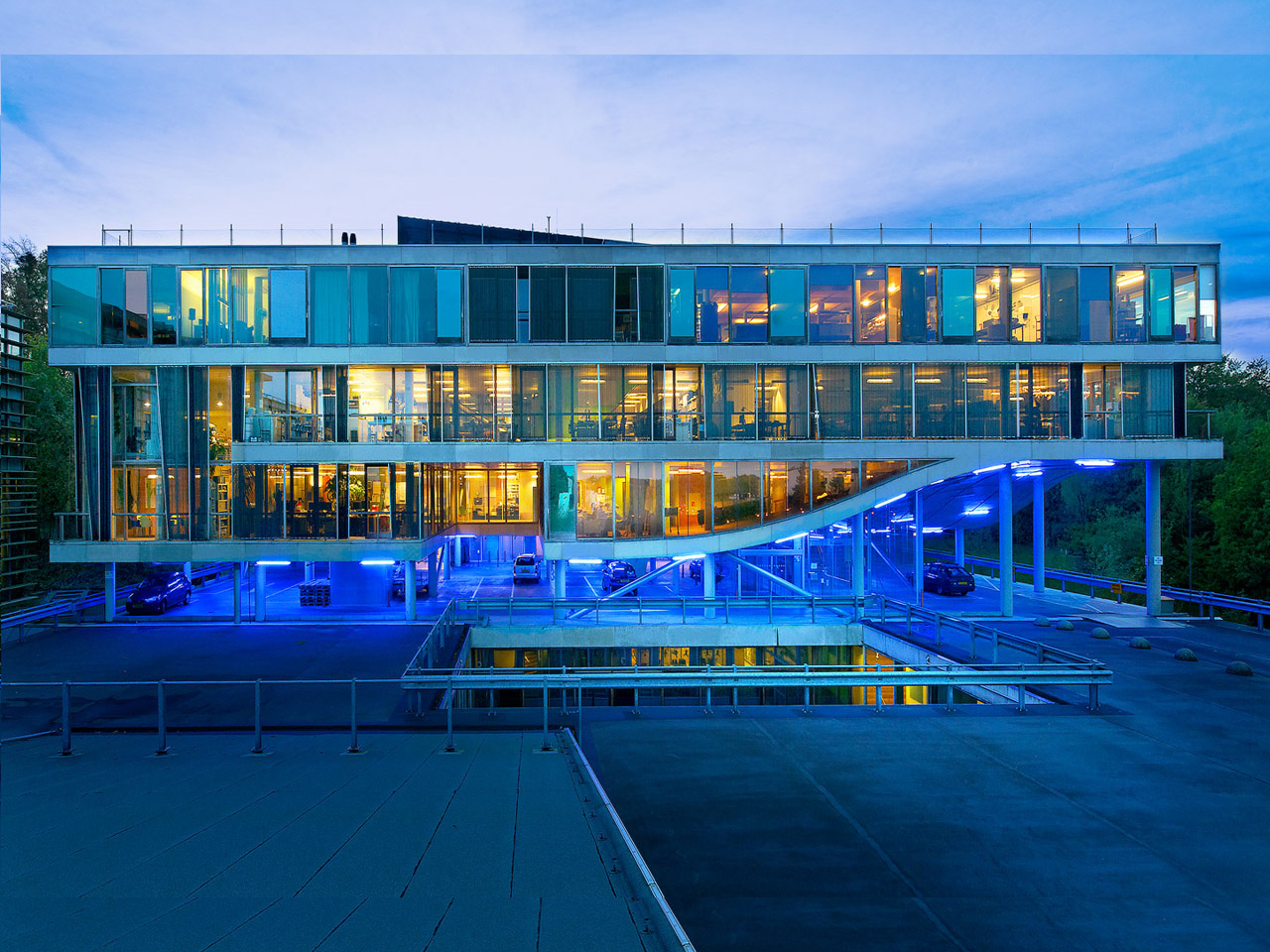 Villa VPRO
Villa VPRO, realized in 1997, is MVRDV's inaugural project. The proposal departs from traditional cellular office environments by inviting occupants to transition seamlessly from one floor to the next through an undulating and stepped concrete landscape. MVRDV's revolutionary approach was informed by an ambitious brief and employees' desire for the perfect work environment.
Location

City

Hilversum

Year

1997

Budget

€10,000,000

Surface

10500 m²

Client

VPRO Broadcasting Company, Hilversum, NL

Status

Realised

Themes
In 1997, the VPRO moved from its former premises, a group of 13 villas, to the new 'Villa VPRO'. Over the years the villas had played a vital role in establishing the VPRO's identity. The staff, who had previously worked in en-suite rooms, attics, sun lounges and on first floors, were tasked with adapting to a 'real' office environment.

The question that became central to the design of Villa VPRO was whether the informal and flexible use of the old villas, which undeniably influenced the programmes that were made in them, could be translated into a modern office designed for maximum efficiency. In other words, would 'informality' be able to survive the increase in scale? Was there any point in retaining the villa as a metaphor?
The structure of Villa VPRO, floors supported by a grid of columns and stabilising props, ensures that rooms retain the greatest possible transparency. Technical facilities are hidden in the hollow floor, whose Spartan character serves as a commentary on the addictive aspects of present-day air-conditioning installations. The floors are fed with air, data and electricity through semi-transparent shafts.

The materialisation of Villa VPRO acknowledges that of its predecessors: no lowered ceilings but a 'real' ceiling, no prefabricated walls but stone, steel, wood and plastic, no mass produced carpeting but Persian and sisal rugs, no small windows but elevations articulated by storey-high apertures affording generous views and access to the garden, balcony, terrace and patio. In production studios, acoustic insulation is ensured by an assortment of materials, wood, coconut fibre, fabric, steel and stone that provide a refreshing departure from standard fibre-cement panels.
A verdant grass covered roof hugs the 'geological formation' of Villa VPRO and replaces the landscape lost during construction. Floors are connected by a plethora of spatial devices: ramps, stepped floors, monumental steps and small rises. The resulting office 'landscape' makes possible a wide range of work spaces that meet the ever changing and diverse demands of the VPRO. Reinterpretations of lounge, attic, hall, patio and terrace types echo the VPRO's old premises whilst being firmly rooted in the future.
© all rights reserved