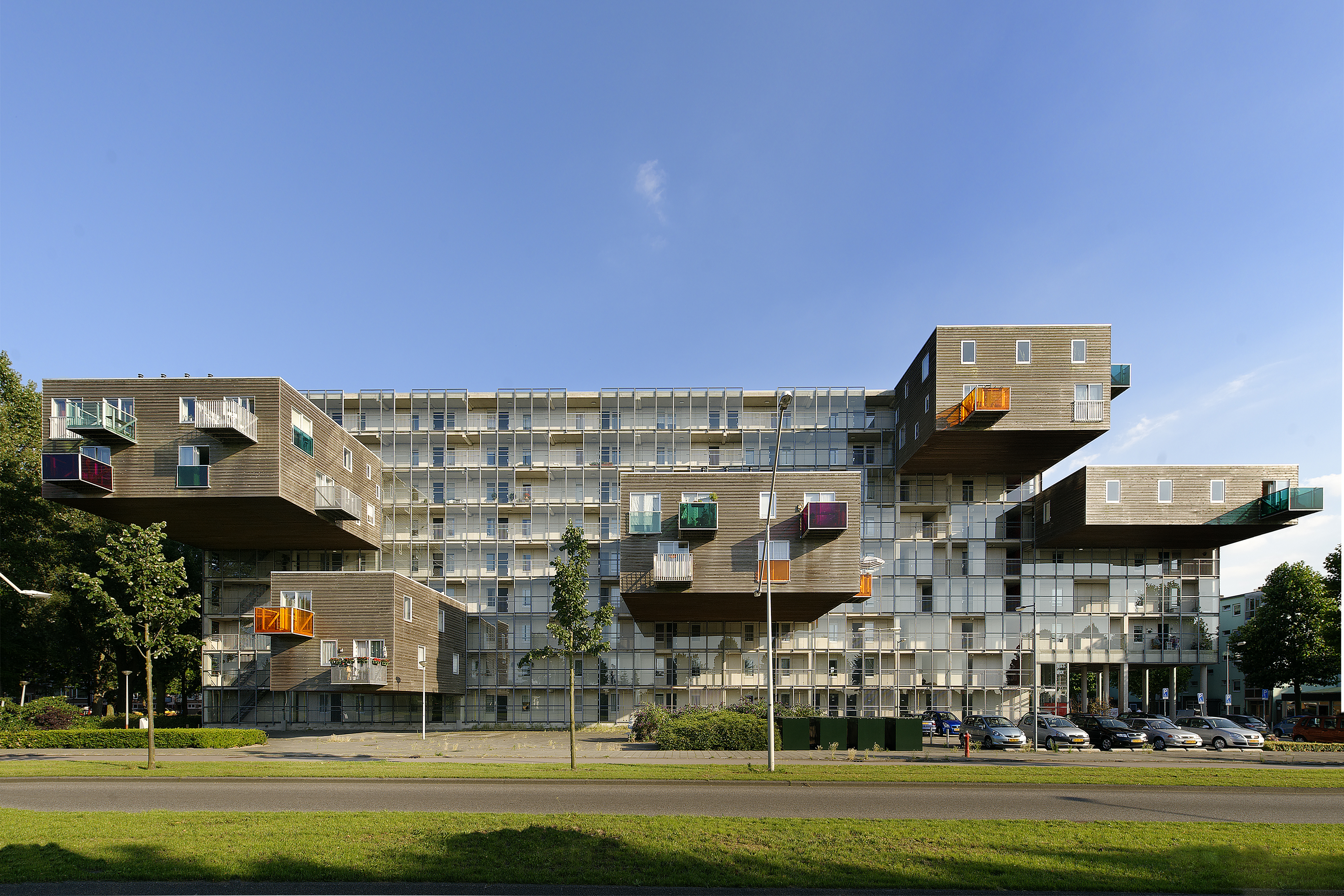 WoZoCo
WoZoCo is the first housing complex realized by MVRDV. The client, a large housing corporation, required 100 units for elderly residents in a proposal that made use of a gallery-type circulation. After preliminary studies revealed that the site could not accommodate the client's request MVRDV was invited to participate in the project. A half-joking solution, presented at the first meeting, whereby additional units were 'glued' to the outer side of the main building volume drew surprising attention. The client saw the potential and MVRDV rose to the challenge.
Location

City

Amsterdam-Osdorp

Year

1997

Budget

€4,500,000

Surface

7500 m²

Client

Het Oosten Housing Association, Amsterdam, NL

Status

Realised

Programmes

Themes
The Western Garden Cities of Amsterdam, like many postwar neighbourhoods in the Netherlands, is characterised by an abundance of public space. The need to accommodate an ever-increasing urban population threatens the mixture of 'light, air and space' that urbanists such as Cornelis van Eesteren, after whose design the Western Garden Cities is built, sought to achieve. As part of a major restructuring project a block of 100 apartments for people over 55 years was proposed to mark the end of a facility strip for the elderly. However, if adequate sunlight was to be maintained in surrounding buildings only 87 of the 100 units could be realized within the main slab. Where could the remaining 13 units be positioned?
If placed elsewhere on the site, public space would be reduced. A deeper slab with narrower units would have an equally undesirable impact. In addition, the North-South orientation of the block meant that the generator had to be a 7.20-meter module. MVRDV proposed cantilevering the remaining 13 units from the north façade. Their East-West orientation would grant residents a view over the adjacent meadow without reducing the daylight exposure of North-South orientated units. The economic layout of the main structure led to savings of 7-8% of the cost compensating for the 50% more expensive cantilevered units.
The Spartan gallery flat became (financially) viable. Each gallery was given a different perspective. Alternating window positions, balcony sizes and materials, give each apartment its own character. To insulate against sound, party walls were constructed 8 cm thicker than structurally necessary. This had the additional benefit of accommodating the connection of the cantilever trusses without having to increase the weight of the load-bearing walls. Smart, cost-saving design solutions such as this contributed to the project, then being, the social housing project realized with the lowest building costs in Amsterdam. WoZoCo continues to be a favorite amongst architectural enthusiasts who travel to the Western Garden Cities to see the 'hanging houses of Amsterdam'.
© all rights reserved