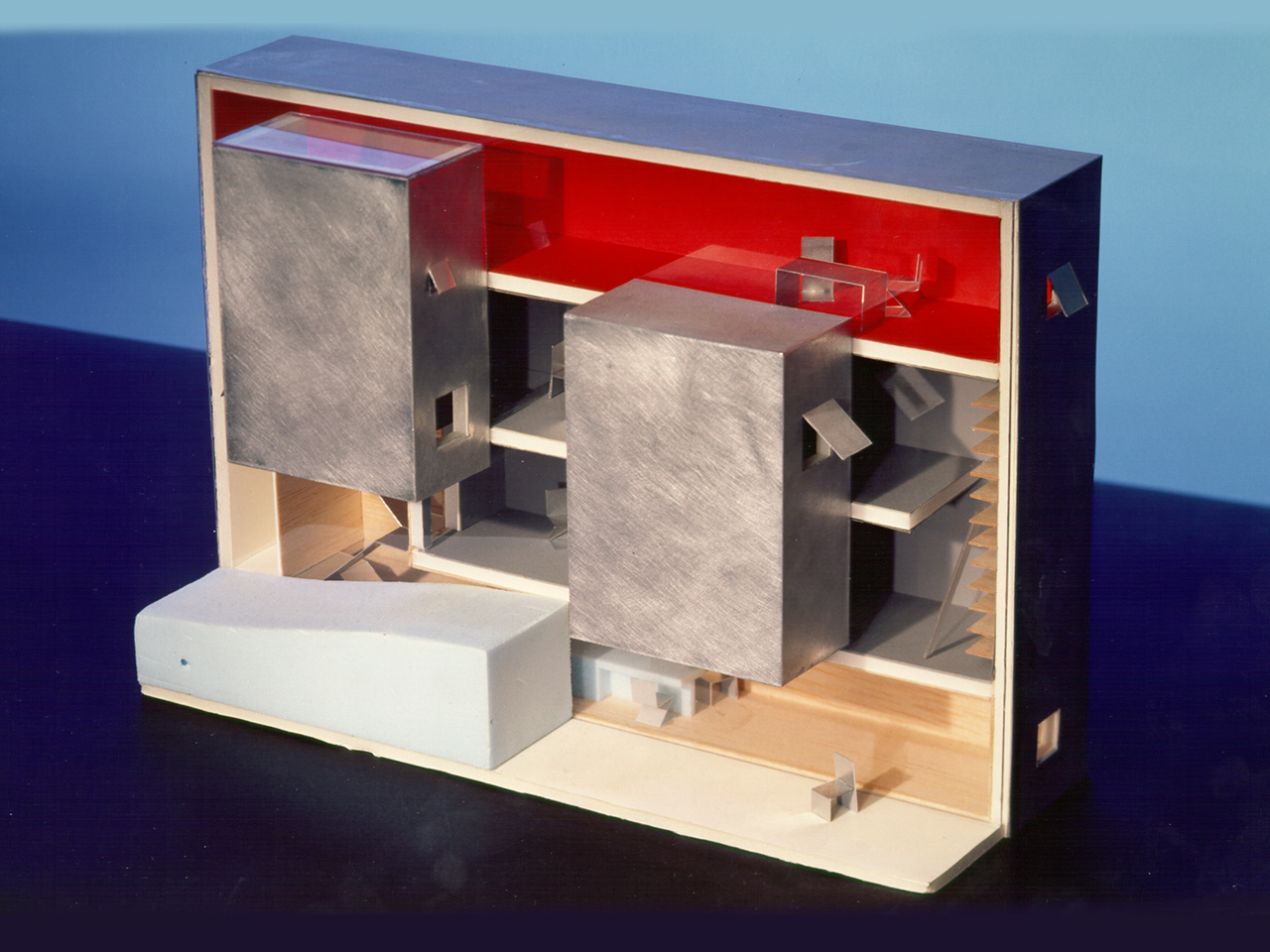 Borneo 12
Borneo-Sporenburg, Amsterdam is the most compact new housing district in The Netherlands of the 1990's. Most of the 60 terraced houses that make up the Borneo-Sporenburg are built by individual clients. Adriaan Geuze of West 8 Landscape Architects has tried to develop the area into a kind of old fashioned neighbourhood, like 'De Jordaan' (in the west part of inner-city Amsterdam), and strictly supervised the design. Plot 12 is one of two designs by MVRDV for the development.
Location

City

Amsterdam

Year

1999

Surface

200 m²

Status

Realised

Programmes

Themes
In Borneo-Sporenburg Amsterdam (the most compact new housing district in The Netherlands) two dwellings have been designed that aim for the greatest possible spaciousness and versatility within a limited envelope.

The Borneo Sporenburg area (east of Amsterdam City) is a former harbour area. The harbour moved to the west, in the direction of the sea. Adriaan Geuze of West 8 Landscape Architects tried to develop the Borneo Sporenburg area into a kind of old fashioned neighbourhood like 'De Jordaan' in the west part of the Amsterdam inner-city. The 60 terraced houses on Borneo refer of course to the Amsterdam Canal houses.
On Borneo plot 12 a private experiment has been designed to fit the allocated width of 5 metres and depth of 16 metres. Because of the narrow plot and the fact that only half of the width is being used, the outcome was a private alleyway and the narrowest house imaginable: only 2.5 metres wide.

The method of dividing land into strips used in West 8's original plan is realised here in its most extreme form. The full length and height of the half that has been built along the 'alley' has a glass facade, while the front and back have been left entirely closed. This open facade turns the house to face the alley.
The strip consists of a composition of extremely varied spaces. Interior and exterior spaces are all one: an extremely narrow house becomes an extremely wide house. The alley accommodates three elements: a block for storage whose roof slopes up from the street and provides a place to park; and two closed volumes, one block for a guest room and bathroom and one block that provides extra width locally to the two studios on the first and second floor. The last two volumes are hung on the glass façade, shutting in the exterior space and livening up the alleyway. It is lit by outdoor lighting that also allows the interior to be provided with any desired level of illumination. The use of electric lights inside is avoided.

VISIT
As this is a private home, it is not open to visits. Please respect the privacy of the inhabitants and refrain from disturbance. Both projects are published in the El Croquis monograph nr. 86, including plans and interior images. The area of Borneo Sporenburg is well worth a visit for its architectural diversity.
© all rights reserved