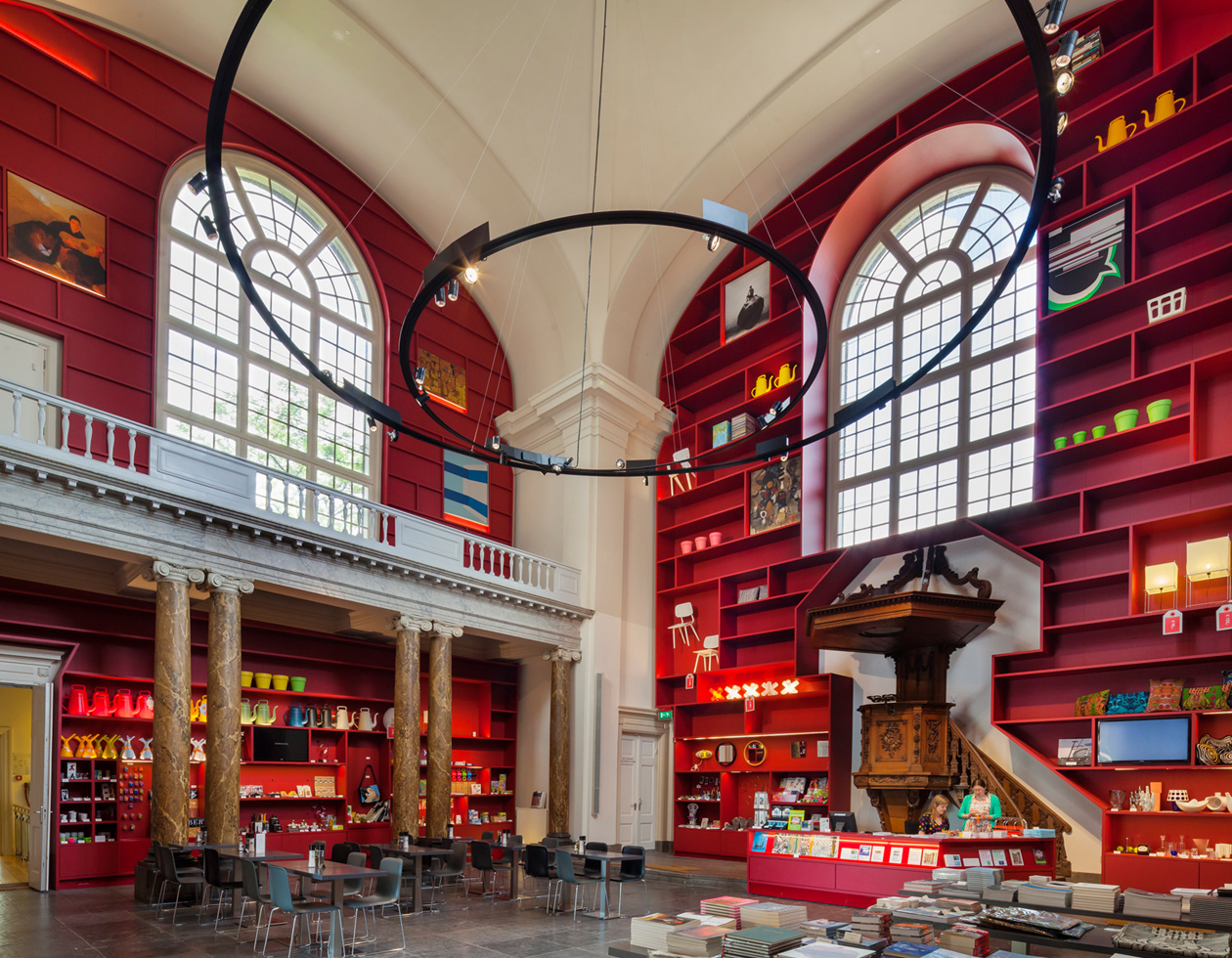 Stedelijk Museum Schiedam
500m2 Transformation of the entrance of Stedelijk Museum Schiedam. The museum for modern art, which is housed in a historical building transformed its central neoclassical chapel into an entrance, shop and café area. The transformation adds a visually clear element, a red shelf which contains all new program and treats the historic structure respectfully.
Location

City

Schiedam

Year

2014

Surface

500 m²

Client

Stedelijk Museum Schiedam

Status

Realised

Programmes

Themes
In 2006, the museum went through a renovation which relocated the main entrance in the basement, the stair leading to the reception area proved difficult to find. The centrepiece of the museum, the neoclassical Giudici chapel lay neglected and lacked good acoustic quality.

The MVRDV design unites all the demanded programme in a series of large book shelves, they contain the reception desk, wardrobe, the museum store, the cafe counter and various presentation spaces for art and products for sale. The chapel was built in 1787 by Jan Giudici as spiritual centre for a guesthouse for the poor elderly and sick with a sober, greyish interior. The bright red colour was chosen to act as a warm element, making a clear juxtaposition between the old and new and to pay respect to the former sacral function of the space.


With one clear and monumental gesture, the shelf combined many functions whilst at the same time keeping the space as open and usable as possible. The design is respectful towards the impressive and grandiose yet at the same time austere chapel, whilst adding qualities the space lacked, providing new functions.

As the chapel is a listed monument the transformation could not change the existing structure, the shelf is constructed in MDF and respectfully meanders around the historical elements such as windows, columns and the organ - framing them at the same time. The small distance between the shelf and the elements also mediates between the perfectly level new addition and the oblique historical structure. Perforations in the backs of the shelves avoid problems with humidity. The higher shelves play an acoustic role whilst others highlight products by using built in LED armatures.
Due to its light construction the shelf can be removed at any time without leaving a trace in the monument.

Stedelijk Museum Schiedam is a municipal museum for modern art and owns a fine collection of works by artists such as Karel Appel, Lucebert, Constant and Corneille. The museum is located in Schiedam's historical town centre, a quintessentially Dutch town with canals, churches and many wind mills of gin distilleries. The transformation was made possible with the support of Bankgiro Lottery, Foundation Schiedam Vlaardingen, De Groot Foundation and the Municipality of Schiedam.
© all rights reserved