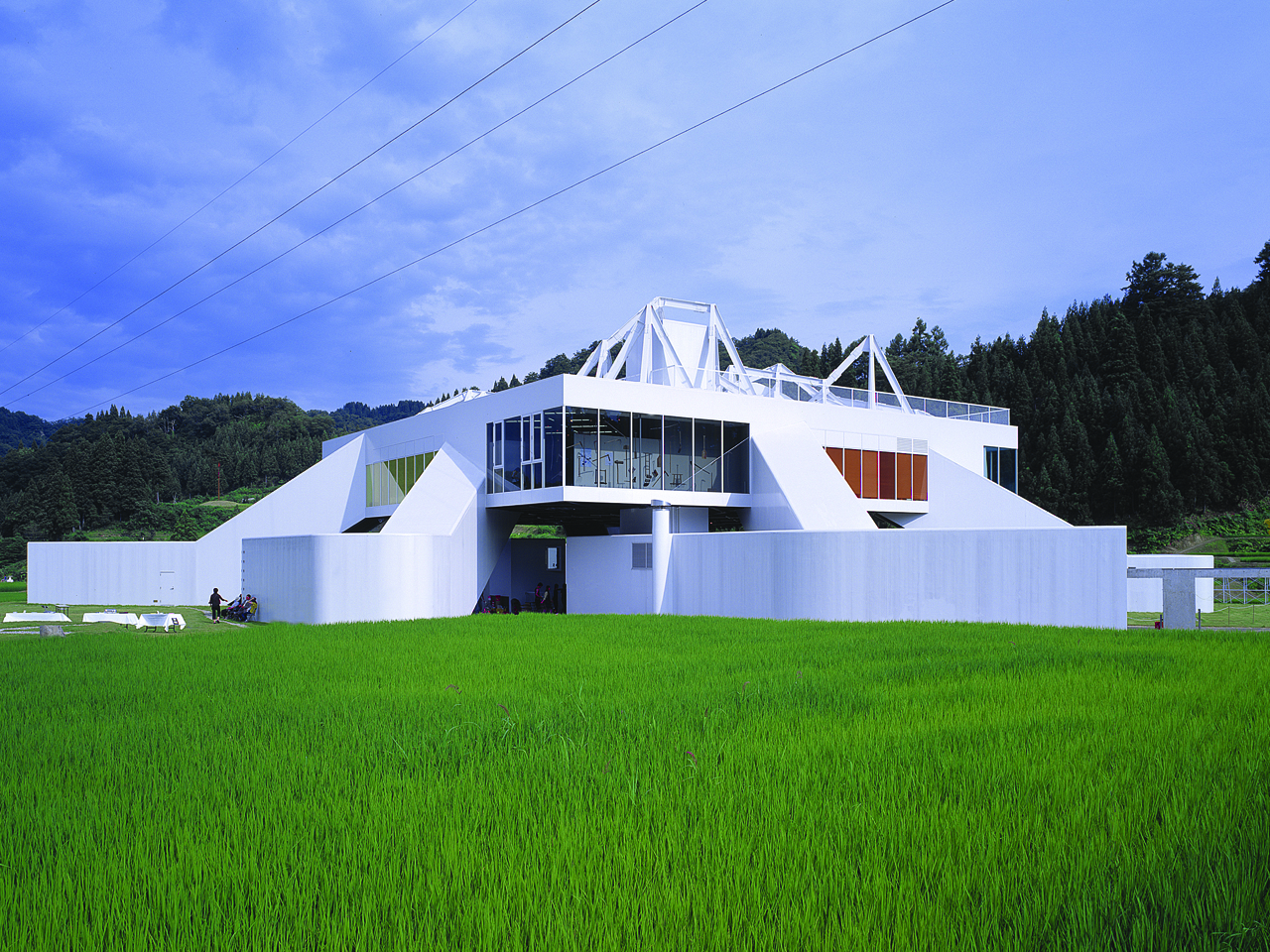 Matsudai Centre
The village of Matsudai is located deep in the mountains of the Niigata-prefecture. Once every three years in the summertime, the Niigata Art Triennial is held in the region. During this festival, the building operates as the event's main stage. The building itself is supported on 'legs', these not only create a snow free zone beneath it in winter and a shaded plaza in summer, but they also form the physical structure, dividing up the different functional spaces on the inside.
Location

City

Matsudai

Year

2004

Surface

1500 m²

Client

Art Front Gallery, Tokyo and the Municipality of Matsudai JP

Status

Realised

Programmes

Themes

Architecture , Leisure , Public , Culture
In the village of Matsudai, summers are hot and humid, but during winters the region is covered with a thick layer of snow, often more than 3m deep. The cultural center is situated between the Shibumi-river and the HokuHoku train line, not far from Matsudai station. It provides a variety of spaces including 1,500 m2 exhibition hall for local art and history, shop, classrooms, a cafe and performance venues.

Once every three years in the summertime, the 'Niigata Art Triennial' (art-festival) is held in the region. During this festival, the area under the building will operate as the main stage for the many events taking place.
By lifting the building into the air, the area under the building will be a snow-free zone in winter and a dry and shaded plaza during summer. Under this roof, plays, dance shows and concerts can be held. The lifting act has the added benefit of making the center more visible from the village, from which is it divided by the railway line, as well as avoiding the pressure from snow on its sides.

The building is supported by bridge-like 'legs' that give access to people coming from different directions, such as the station, parking or the park next to the river. These legs form the physical structure of the building and generate a column-free space underneath. The leg-spaces are free from the weather conditions and cut through the building dividing it into different programmatic elements.
On the rooftop, a 'rocky' landscape is formed according to the dynamic forces in the building which are carried by leg-shaped stairs. This artificial 'icy' roof landscape will provide an attractive playground and viewing platform to the mountains. It might also remind summer visitors of the wintertime when Matsudai will be hidden under a massive layer of snow.

VISIT

Address: Matsudai Nobutai, Matsudai 3743-1, Tokamachi-city, Niigata
Art Front Gallery Tel: 81(0)3 3476 4868

By car from Tokyo: Kanetsu Highway, via Muikamachi I.C , Route 253
By train from Tokyo: JR, Jyoetsu Shinkansen, via Echigo-Yuzawa Station - Hokuhoku Line
© all rights reserved