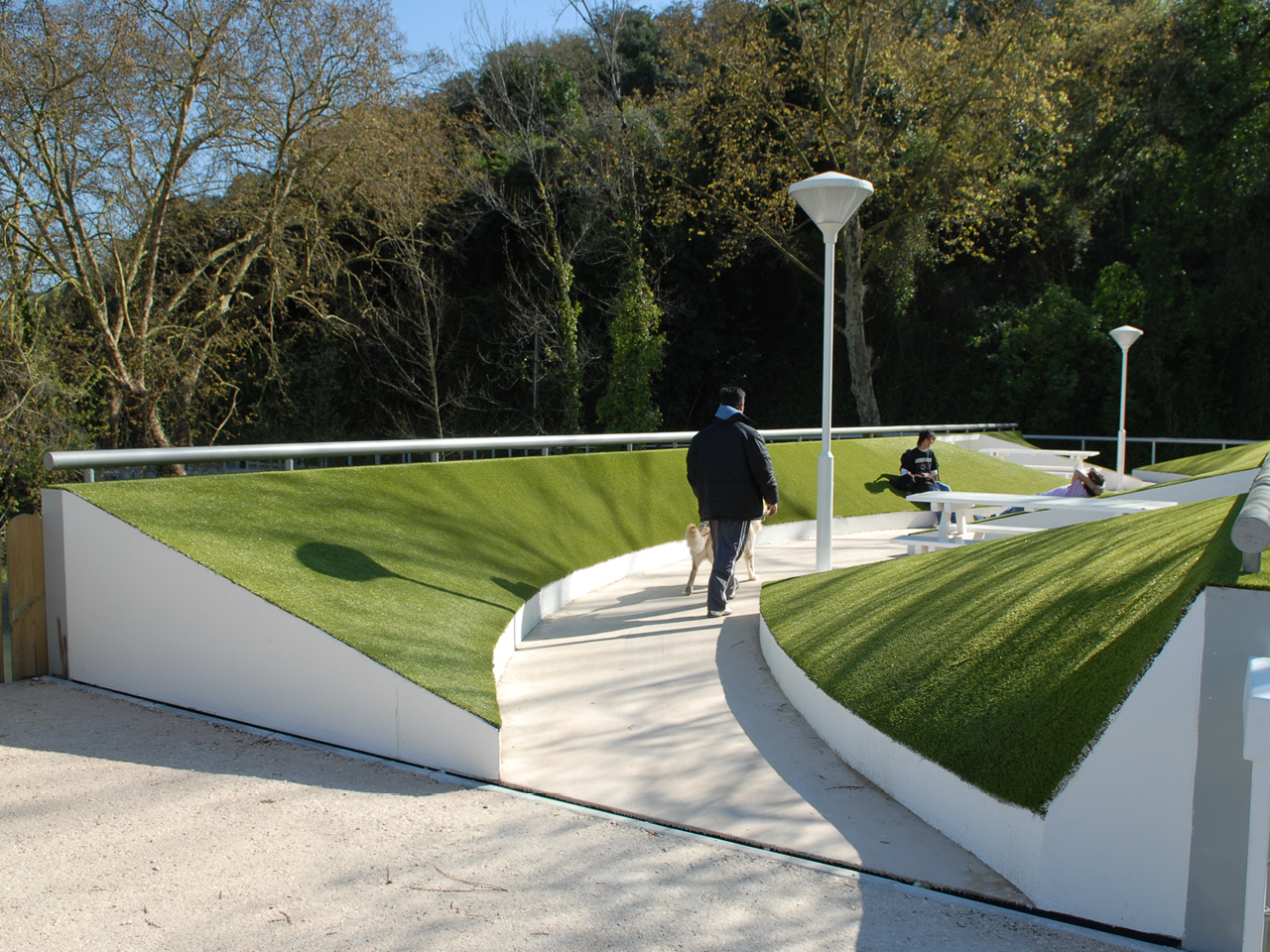 Leiria Bridges
This project involved designing six new pedestrian bridges in Leira, Portugal: a playground bridge, a trident bridge, a bar bridge, a balcony bridge, a picnic bridge, and a sofa bridge. Each offers a different kind of public amenity for the pedestrians who cross them, and for the area as a whole.
Location

City

Leiria

Year

2005

Client

Leiria Polis

Status

Realised

Programmes

Themes
PLAYGROUND BRIDGE
Close to the new-renovated bridge, a bridge is required. This position makes a playground bridge very suitable. The area is a sports facilities area. This concept is reinforced by the playground bridge. A bridge with playground facilities is placed over the river. The crossing to the sports neighborhood is done by this bridge.

T(H)REE BRIDGE
The t(h)ree bridge solves a complicated connection situation in this part of the city. From the west bank, connection is needed to three different locations at the east bank. Each of these destinations has a different height.

The centre of the bridge is the central crossing of the three destinations. Therefore the bridge is avoiding a group of houses that blocks the pedestrian way just at the riverside and the bridge connects to a promenade at the east bank that has already been designed. The bridge is 1 meter thick, so 'seating-dips' are there to enjoy the view over the river.
BAR BRIDGE
Bar, Why not making the most of the bridge position and place a bar at this attractive site? Drinks can be taken with a nice view over the river and the city.

BALCONY BRIDGE
In one of the most busy spots of the city, a "highway" bridge is designed. The bridge connects important areas in the city. A lot of pedestrian traffic circulation is expected. Therefore a balcony is designed to avoid blockings. It also allows people to stop and relax, in the same way as cars stop in highways at the rest areas.

PICNIC BRIDGE
A picnic atmosphere is recreated in this bridge. The bridge turns into a valley where picnic tables and benches are placed. The bridge is itself part of the surrounding public park. The bridge belongs to the park. It is situated where the park crosses the river. Why not a picnic area in this exceptional spot? A view over the river and its surroundings is taken from this position. Strong colors mark the position of the picnic areas. It is a way of noticing different uses in the park, landscape, valley context.
SOFA BRIDGE
The sofa bridge is a prototype for all the small bridges that may be built in the future. A small living room can be found in each of these bridges. It consists in a sofa, a street light and a trashcan.

VISIT
All of the bridges are open to the public at all hours of the day. We recommend having a stroll up the river and enjoying all six in one go, whilst taking in the surrounding scenery. The walk from the most southern bridge (Sofa Bridge) to the most northern (Playground Bridge) should take around 30 minutes without stopping. However do make sure to stop and interact with each bridge on the way. Parking can be found at the address below, directly adjacent to the Playground Bridge.

Address : Av. Cidade de Maringá, Leiria, Leiria District, Portuga
© all rights reserved