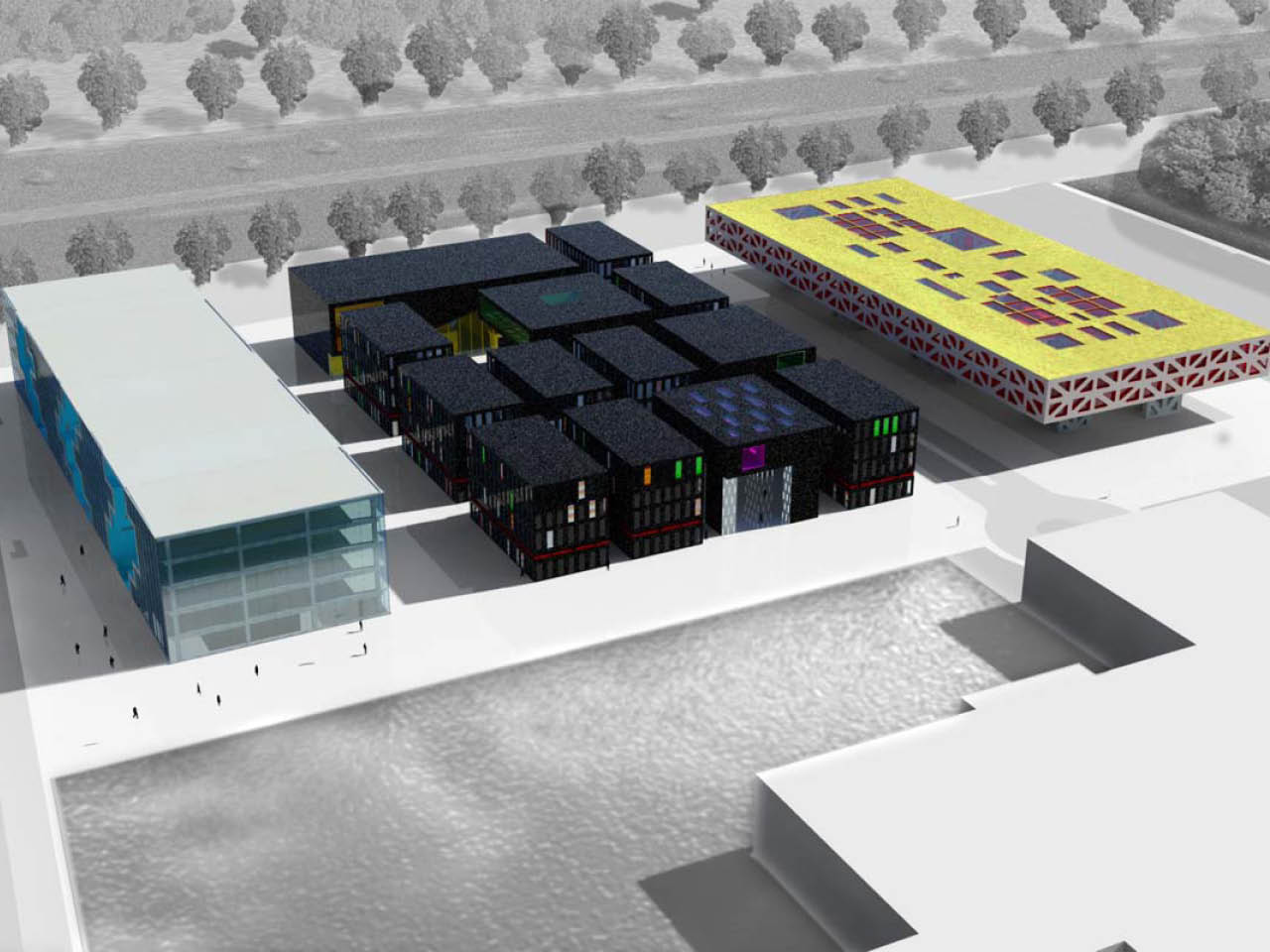 Nanjing Arts Zone
A cultural centre is planned for the central business district of Nanjing, next to its metro station, themed entirely around art. The plan includes a museum, art centre, design studios, bookshop, art school and galleries and a soho-style apartment block. The site's most prominent building, the Museum, will be situated in a green area, its character and scale contrasted with the more dense and urban clustering of the other facilities. The plan is currently under construction.
In the new central business district of Nanjing, a cultural hub is under construction. Located next to a metro station, MVRDV has designed a cultural development that is focused entirely on art. Next to the proposed Yi Lan zhai museum designed by the Japanese architect Kisho Kurukawa, an art center, commercial area, a bookshop, art galleries, studios and a hotel are planned.

In order not to infringe on the prominence of the existing museum design, the new buildings are positioned toward the road at the other end of the site. This combines an open and green museum area with a more dense art and commercial cluster. The cluster is subdivided into three different zones. Three remarkable volumes face the main street and are located in such a way that a clear vista is maintained from the main street to the museum.
ART INCUBATION CENTRE

The art centre is conceived as a mini-city that contains a number of neutral multi-functional buildings for small offices and galleries, a cinema complex, a tea house, a banqueting building and a multi-purpose hall. Different buildings are situated around a series of plazas that are all connected in a meandering way. The incubation center is an antidote to the inhuman scale of new buildings in Nanjing. It provides urban intimacy, in what is otherwise a sea of grand boulevards and deep floorplans, so as to stimulate creative networking and artistic synergy, in contrast to typical towerblocks or gated communities.
COMMERCIAL SPACES

Facing the metro station a rectangular block of five layers contains a diverse program of shops, bars, clubs and offices. A number of terraced cut-outs provide access on several levels and create a connection towards the middle block, the art incubation center.

HOTEL

A horizontal hotel lbock is lifted up to cover a sculpture garden and the hotel plaza. The lobby is located underground and hotel rooms are on the upper two layers around a series of courtyards which provide views from the rooms to the plaza.
© all rights reserved