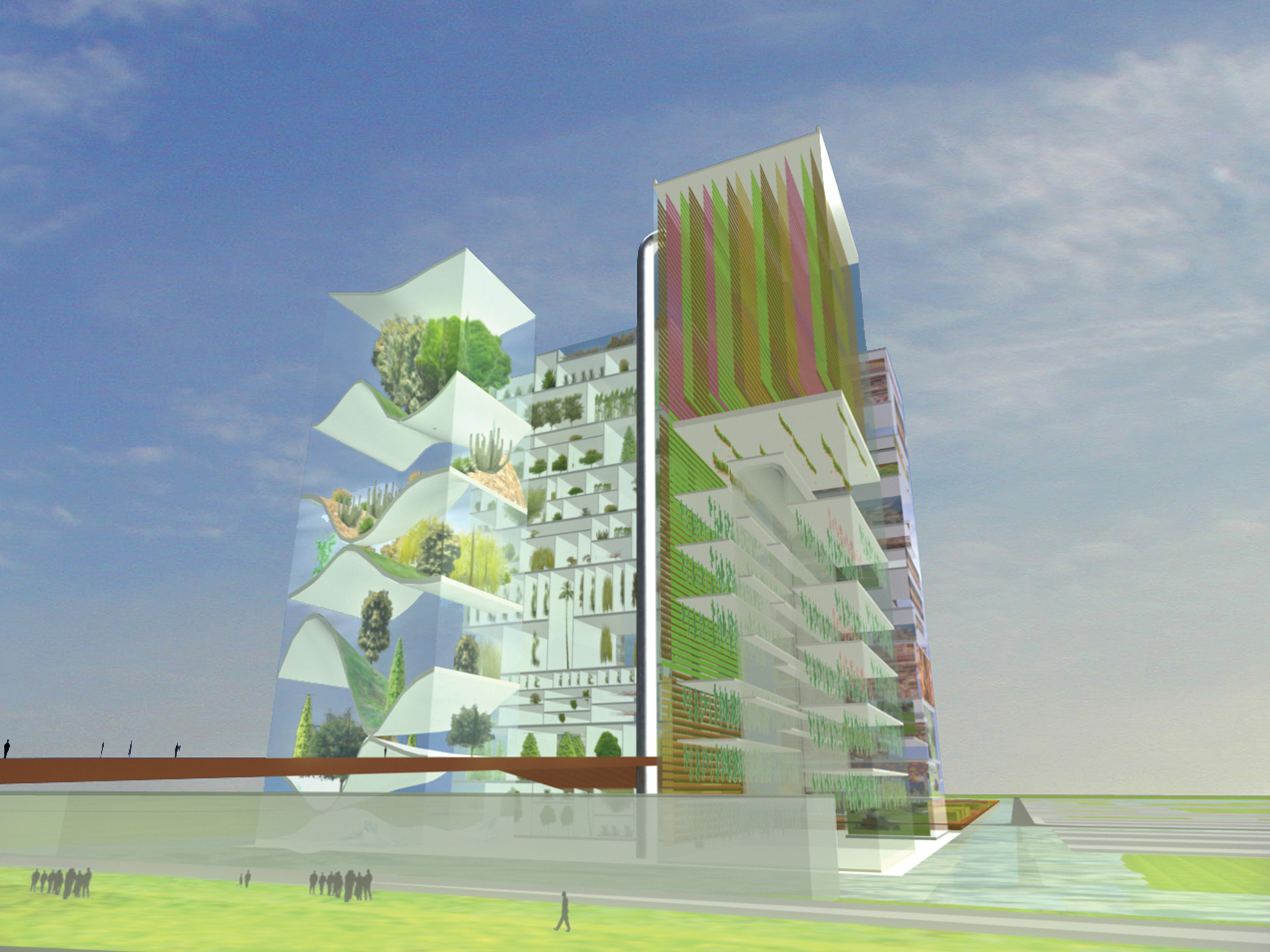 Rotterdam Floriade 2012
By setting up the exhibition as compactly as possible, an overwhelmingly dense plant cathedral is created; a modern Noah's Ark. In an era in which everything is judged by images and impressions, this provides an intense experience, while also creating a base for research into densification. Within the building, plants are organized by climate, genus and name, creating a vast plant library for visitors to explore. After Floriade, the structure could be used as a horticultural business center, a Green World Trade Center
Location

City

Rotterdam

Year

2004

Surface

60000 m²

Client

dS+V, Gemeente Rotterdam, Ontwikkelingsbedrijf, Rotterdam, The Netherlands

Status

Competition

Programs

Themes
Recent studies have shown that in a self-sufficient community 80% of the available space needs to be reserved for food- and oxygen production. The concept for a vertical Floriade shows how to intelligently live with plants and horticulture in an increasingly densifying and urbanizing world. For the Floriade 2012 three different concepts were developed, each showing a different way to build up the exhibition, but responding to Rotterdam's need for densification.

What contemporary interpretation can we make of a classical garden like the Dutch Floriade that is organized once every ten years, especially in an era when people travel insatiably, visit exotic landscapes and become acquainted with new products without the need for great exhibitions; in an era when books, magazines, newspapers and other media make knowledge of gardening products continually accessible, when garden centers are growing into permanent horticultural shows, when more and more amusement parks plant abundant vegetation, in which national parks are transforming into educational visitor centers? Perhaps one can respond to this by designing an ultimate garden show, practically a Grand Finale as a starting sign and a challenge for generations to come?
Developing, designing and realizing a comprehensive collection of plants, cultivation methods, gardens and botanical associations results in a contemporary plant library. Systematically exhibiting this collection would allow it to function as a reference source of potentially long-term value. It would be an all-embracing library of knowledge about plants and horticulture. Displaying this collection in a compact form reduces the walking distances for visitors and could be a prodigiously dense cathedral of vegetation, a veritable Noah's Ark of plants. It forms a basis for research of higher density for plant life. It underlines the necessity for innovation in this area in a future dominated by a growing world population, in which the role of food production and vegetation has to be expanded. Recent studies have shown, in this light, that 80 percent of the space of an autonomous community is necessary for food production and oxygen generation.
This Noah's Ark can be organized as a multilayered system – classified according to climate requirements, alphabet ordering and the Linnaean system; according to its applications and its production methods. It embodies today's data culture. It challenges the new generation. It interprets the present requirements of Floriade as a contemporary, timeless variant. One layer of the building displays the possibilities of planting in relation to human activities. The various functional components of Floriade are located here. Each "adopts" a part of the collection: eating in the greenhouse, dancing in the mushroom cave, swimming in the coral reef habitat, bathing under the waterfall, working in the garden office, and conferring behind the foliage. The vertical Floriade can also be seen as a modern warehouse, the ultimate garden center, as is appropriate to the behavior of the new generations. Visitors can buy anything they see, all purchases being stored in a chip on the entrance ticket. Payment takes place at the end of the trip. The structure can be used after conclusion of the Floriade as a new Green Trade Center, a commercial center for horticulture, a kind of permanent monument to horticulture and the most prominent building in the area.
© all rights reserved