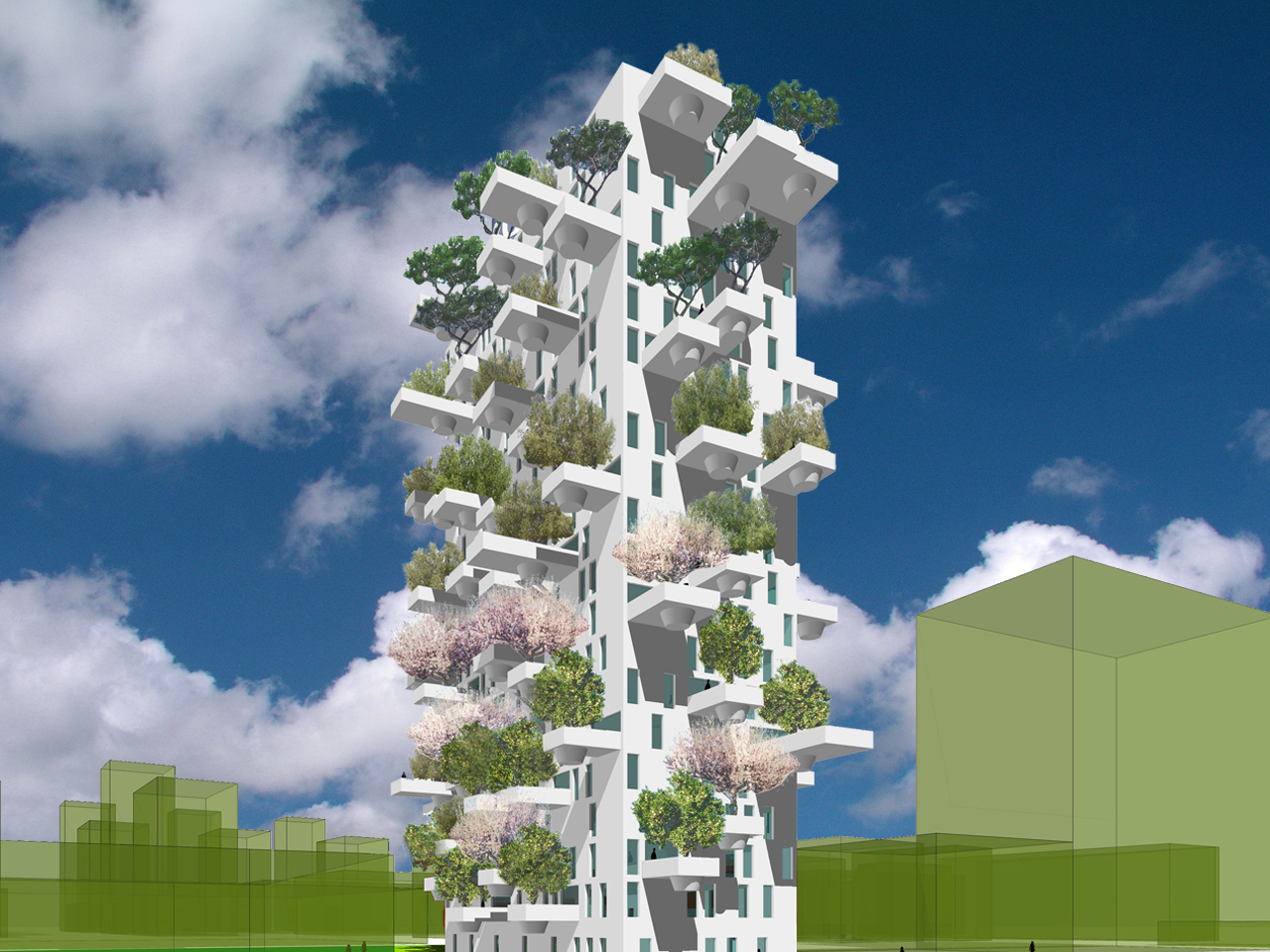 Torre Huerta Sociopolis
In the given plot a social housing tower has to be constructed under strict normative conditions. By hanging prefabricated balconies (or maybe it is better to talk about gardens due to their size) in different sizes according to the demanded financial differentiation, complete with a "tableau vivant" of tables with benches and barbeque ovens under an olive tree, the existing trees can be moved upwards. A water tank on the roof provides sufficient water for the trees. It creates a vertical series of gardens: a social elevation
Location

City

Valencia

Year

2007

Surface

12800 m²

Client

IVVSA (Instituto Valenciano de la Vivienda), Valencia, ES

Status

Design

Programmes

Themes
Valencia Huerta is slowly disappearing. What used to be an oasis of green and agriculture in the middle of urban activities is condemned to extinction; Huerta is being swallowed by the unstoppable growth of Valencia metropolis.

The present urban plan of sector La Torre combines the existing Huerta and the unavoidable real-estate interests with success: a new more human and ecological neighborhood appears: Sociopolis. Huerta melts with new developments, creating large green areas and agriculture plots to be used by the neighbours. Nevertheless a lot of Huerta is lost. Why not "transplant and transport" these "condemned" Huerta plots to the future building, thus creating a vertical Huerta where every single house has it's own outside space, like "minifundios", small farmhouses, like the authentic Huerta plots.


In the Huerta-tower, the apartments have a balcony-Huerta. Every house has a big balcony with a garden, an exterior extension of the interior living room. Valencia's Mediterranean climate allows staying outdoors 9 months per year. Building climate and sun control is done in the most natural way; through green vegetation (orange trees, lemon trees, olive, almonds, lavender….). One could even grow its own fruit, which is common in Valencia. Contact between society and nature is maximised at Torre Huerta – not only in the public areas, but also in every house at a smaller and private scale.
The Huerta tower is a 21-storey building with different combinations of apartments and typologies, ranging from 1 bedroom to 4 bedrooms. On each floor 5 apartments are arranged around a central core. Every apartment has its own terrace with a tree, creating different views. The entrance to the building is situated on the ground floor, as well as 7 different commercial areas. A vertical core with 3 elevators and 2 stairs give access to all floors. The roof is a shared space for the neighbours. Solar cells and the water tank are located here.
© all rights reserved