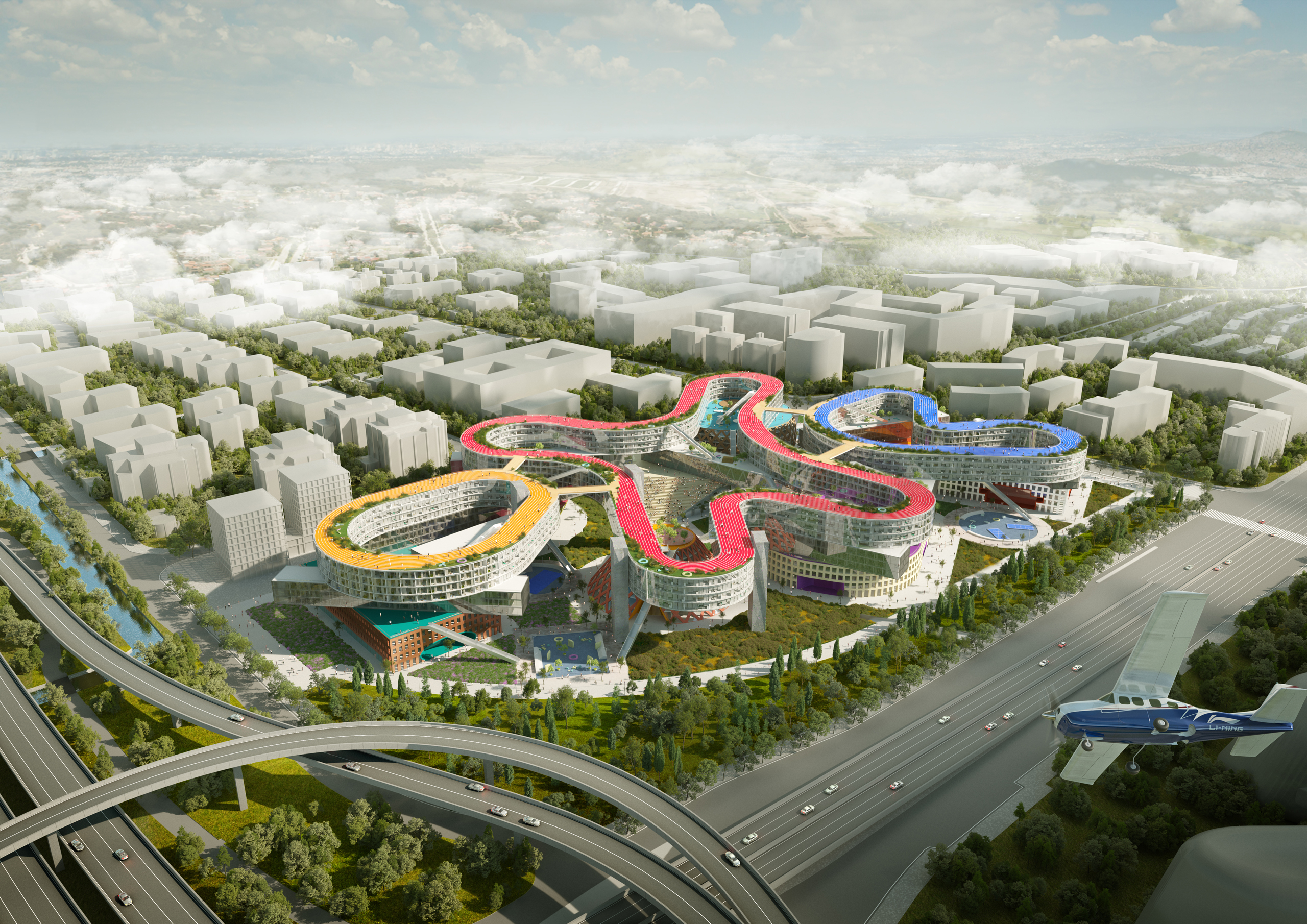 LiNing Center
The new masterplan for LiNing Company Ltd. envisions a vibrant mixed-use neighborhood that integrates sports and well-being into daily life, aiming to become a prominent focal point in Shanghai's Changning District. Designed as a dynamic and forward-thinking urban complex, the masterplan offers a diverse range of activities, allowing people to live, work, conduct business, and embrace an active lifestyle in close proximity. It serves as a catalyst for the city of Shanghai, boasting captivating architectural forms, abundant greenery, bustling commercial spaces, and an innovative integration of sports complexes within the urban fabric.
Spanning across a vast 103,000 square meter plot, the LiNing Center features an open and playful configuration that adheres to a rational layered approach. The first layer of the complex consists of seven buildings that enclose gyms, sports halls, and courts. These buildings cleverly incorporate retail spaces along their perimeter on the lower levels, while housing and offices occupy the higher levels. This groundbreaking architectural paradigm flawlessly integrates various functions in connection with sports, creating a truly unique and unprecedented configuration. Indeed, each building within the complex serves as a dedicated sports core, promoting specific types of activities and making every aspect of sporting engagement catered within the complex.
Moving to the second layer, nine building bars gracefully stack on top of the first layer and primarily provide residential spaces. However, one building houses a swimming pool, soaring above the main gathering space, a unique design element adding an additional layer of grandeur to the LiNing Center. Then, the third layer of the complex encompasses three loop buildings, each with its own distinctive size and shape, spanning the entire site. These loop buildings serve as versatile spaces accommodating both housing and office areas, ensuring a dynamic and harmonious blend of living and working environments within the LiNing Center.
All buildings feature activated and interconnected rooftops, easily accessible to everyone. The loop buildings on the top layer serve as running tracks adorned with greenery and communal gathering spots, providing an unparalleled opportunity to exercise and engage in sports while enjoying breathtaking 360° views of Shanghai.
The diverse and striking architectural forms at higher levels not only create shaded areas at lower levels, but also establish tridimensional visual connections. The entire complex aims to be permeable, open, and welcoming to the public. Meticulously landscaped areas intertwine with open sports courts and fields, forming beautiful outdoor retreats for residents, office workers, and visitors.
The playful arrangement of the buildings promotes movement and energy, a dynamic synergy with its users. The individual façade treatments for each building type further enhance the recognizability and iconic nature of the LiNing Center.
© all rights reserved