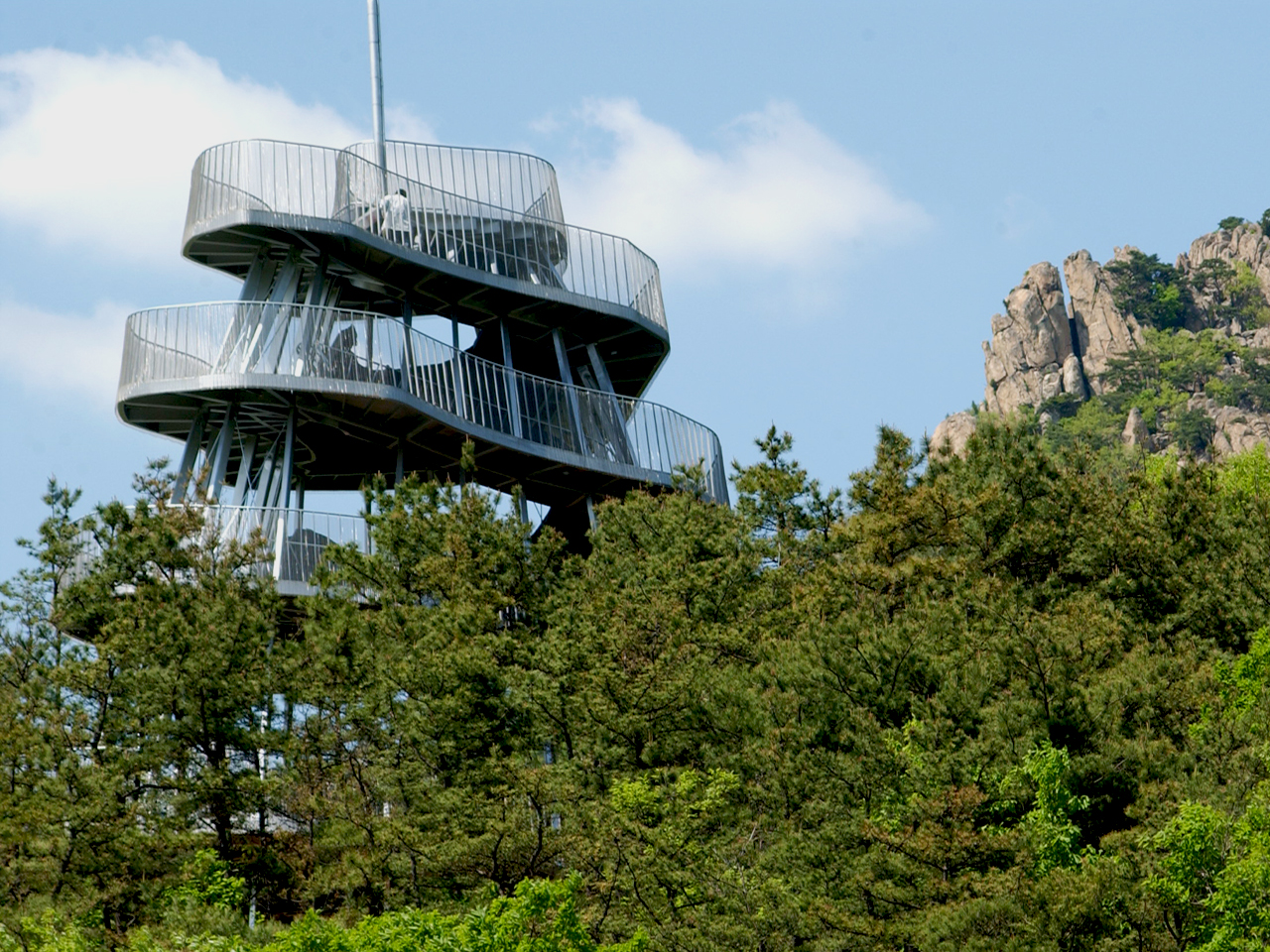 Anyang Peak
Booming during the 70's and 80's, Anyang Resort became redundant because of its incapacity to keep up with societal changes. One way to revitalize this area was to emphasize its natural wonders: intensifying the experience of nature. The viewing tower and spiral path supercharges and reshapes the lush hill it sits atop into Anyang Peak.
Location

City

Anyang

Year

2006

Budget

€500,000

Surface

211 m²

Client

Anyang City (ADAP 2005)

Status

Realised

Programmes

Themes
The Anyang Resort is a park which was booming with tourism during the 70-80's, but has been redundant during the past decade because it couldn''t keep up with changes in society. The outdoor swimming pool which was the most important attraction did not attract people anymore because it was outdated. And as transport in the area improved, people could travel further away for nicer scenery. Even though Anyang Peak has a spectacular landscape, it functions merely as an entrance to the mountain region, with a scatterring of restaurants and bars.
One way to revitalize this area is emphasizing the natural wonders that surround it: intensifying nature. The viewing tower supercharges the lush hill it sits atop into an 'Anyang Peak', allowing visitors the chance to see far out over the surrounding mountain landscape. The path leading up the hill, an essential element of the park, is used as a tool to generate this idea. The spiral path continues into the tower, extending the hill seamlessly and reshaping its peak.
The internal void acts as a pavilion. It can hold a small exhibition or installation. The space can also be used as a performance space, allowing visitors to look down on the stage from the peak above. The path encircles the peak turning it into a destination.

Anyang peak is located in the Anyang Art Park which is open to the public. During the walk up the hill visitors can also visit exhibits by a collection of local and international artists.
© all rights reserved