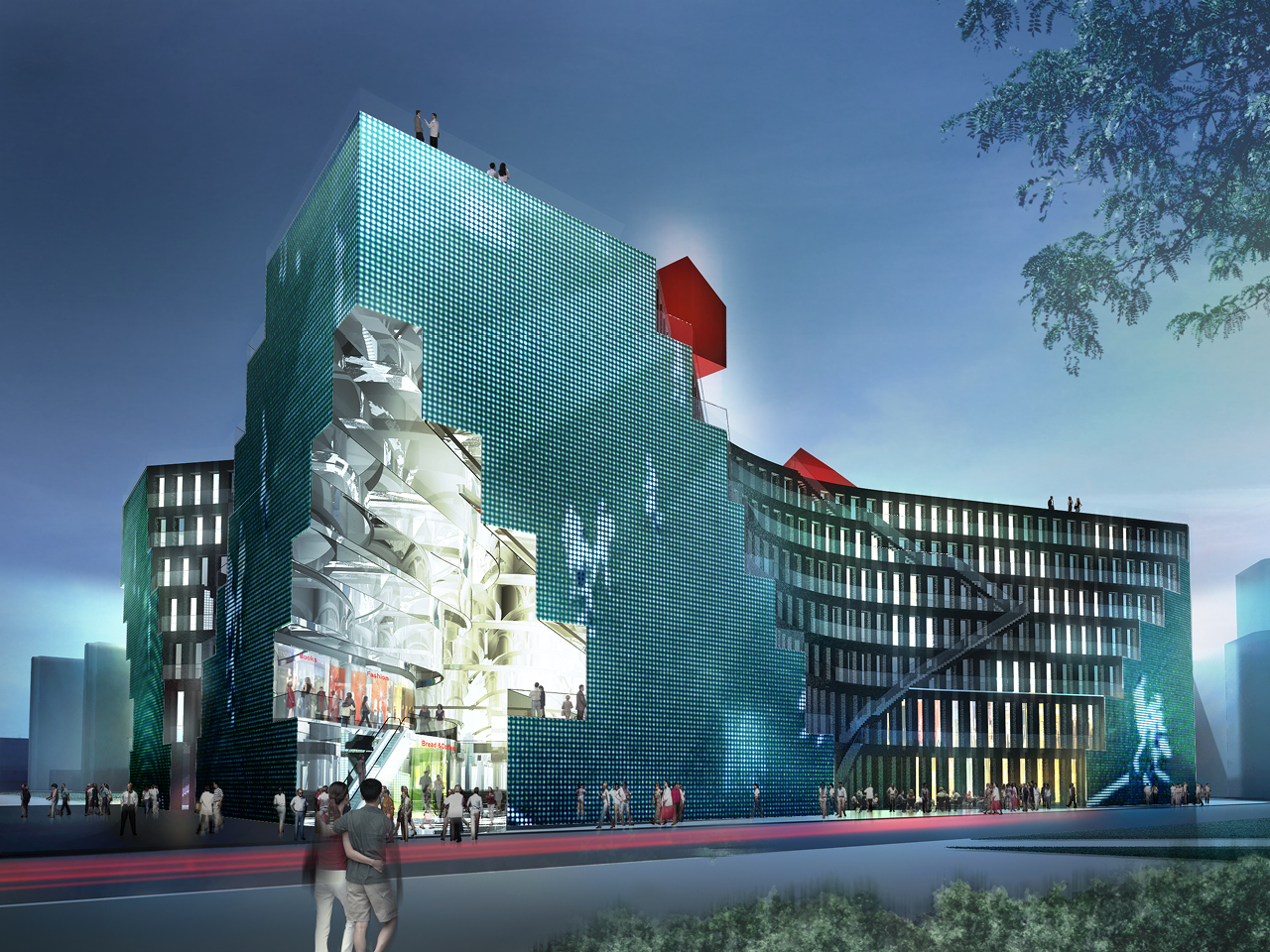 Toptani Shopping
The Toptani Shopping Centre forms part of the recent development of the Albanian capital Tirana, a city which has emerged with innovative creative force from the post-socialist chaos. The combination of retail and offices creates a new model for city center developments, and the building's media facades engage the city by providing a platform for advertising through on giant LCD screens.
Location

City

Tirana

Year

2005

Budget

Undisclosed

Surface

47000 m²

Client

EurCol, Tirana, Albania

Status

Design

Themes
The combination of retail and offices allows for an iconic building following the requirements of both programmatic parts. The retail is located easily accessible on the lower floors and arranged around an atrium which follows the natural access routes from the city. The shopping centre can be used as shortcut to generate more pedestrian traffic.
The interior of the atrium is clad with mirrors which will create a magical scenery in which the shapes of the reclining floors mirror themselves.

The office floors on top are arranged around the same core which is slimmer here which is more efficient for the office program. The office floors provide views over the city and outside spaces, in the Albanian climate a real asset.
The façade has two main functions: it engages the city by being accessible through a series of stairs and balconies – extending the city life and providing a façade animated with life. Parts of the façade are devoted to advertising, mostly around the entrances to the arcade the façade is clad with a giant LCD screen which can engage the city and is in this new positive tradition of Tirana.
The façade can be programmed according to the events in the centre and it can even serve as screen for important events such as elections or football matches. The interiors of the building also feature media facades, reflecting the growing demand for advertising space in buildings with high footfall.

The Toptani Shopping Center is already realised, following MVRDV inicial design, but executed by a local architect.
The address is Rr. Abdi Toptani, Tiranë 1001, Albania.
© all rights reserved