Atelier Gardens, the campus project in Berlin designed by MVRDV for developer Fabrix, has been named the Best Urban Regeneration Project at the MIPIM Awards, based on the award's criteria of: sustainability, integration of the project in its environment and community, quality of the user experience, economic contribution, originality of the concept, and architectural qualities. Announced at the MIPIM conference in Cannes on Thursday evening, Atelier Gardens was selected from a shortlist of four projects from around the world.
Atelier Gardens is a transformation of the campus of the Berliner Union Film Ateliers (BUFA). Situated at the southern edge of Berlin's Tempelhof Airport, the campus has been a key part of Berlin's film and television industry since its first buildings were constructed over a century ago. Now, BUFA is expanding its user base beyond filmmakers to encompass all forms of 'change makers', including organisations and individuals with a focus on activism and social justice – catalysed by a sustainable transformation of its physical spaces.
MVRDV's design preserves and enhances the spatial diversity of the existing campus. A series of sustainable transformations, which take advantage of the existing structures rather than demolishing and rebuilding, refresh the buildings while maximising the potential of the spaces between. The campus will be transformed with an ecologically focused landscape designed by Harris Bugg Studio: large areas of paving are removed, eliminating vehicles and adding water permeability and biodiversity with rooftop gardens and green plazas. Other sustainability measures are also incorporated, such as eco-toilets, rainwater collection and water recycling, and improved natural ventilation.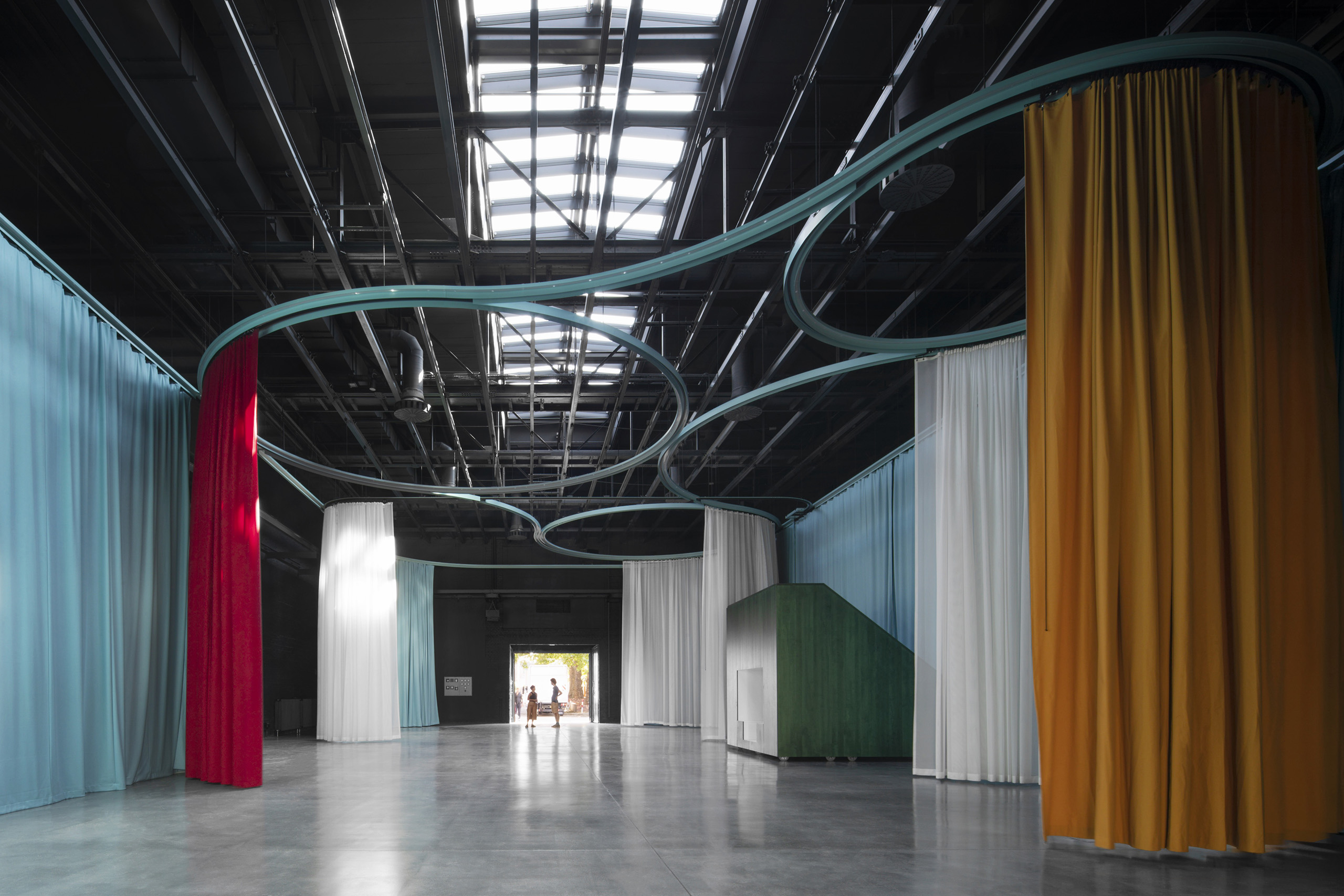 The first completed project, realised in 2022, was the transformation of TON 1. Image © Yasutaka Kojima
The masterplan for the 23,800-square-metre campus takes an incremental approach to refresh the film studios, considering each building transformation as a response to the previous ones. The first of these projects was completed in 2022 and saw the reimagining of TON 1, a listed film studio that is almost 100 years old. The studio was transformed into a flexible event space through the introduction of a key stand-out feature: an intricate overhead curtain rail that – unlike in most film studios where curtain rails are hidden – becomes a focal point of the space. The rail supports a variety of curtains in a range of bright colours, from raspberry to honey yellow, that can be used to divide the space.
Atelier Gardens was designed by MVRDV alongside Studio Fabrix and Hirschmüller Schindele Architekten for London-based developer Fabrix. Key contributions to the project also come from Harris Bugg Studio (Landscape Design), Drees & Sommer (Project Manager), Buro Happold (M&E), Hati (Water Management), and KPM3 (Contractor).
It is the third MVRDV project to win a MIPIM award, following the Markthal, which won Best Shopping Centre in 2015, and Valley, which won the Future Projects Award in 2020.