Tomorrow, on 5 May, ticket sales will open for the Rotterdam Rooftop Walk. Construction is currently underway, and from Thursday May 26th – Ascension Day – people will be able to visit the temporary installation designed by MVRDV and the Rotterdam Roof Days. Tickets will be available at rotterdamsedakendagen.nl and rooftopwalk.nl.
The 600-metre-long temporary installation will lead visitors along the roofs of WTC Rotterdam and the Bijenkorf department store, ending on the roof of the Q-Park parking garage. For one month starting on Ascension Day, 26 May, Rotterdam residents and tourists will walk over the Rotterdam rooftops, given access to roofs that are normally closed and views that are usually inaccessible.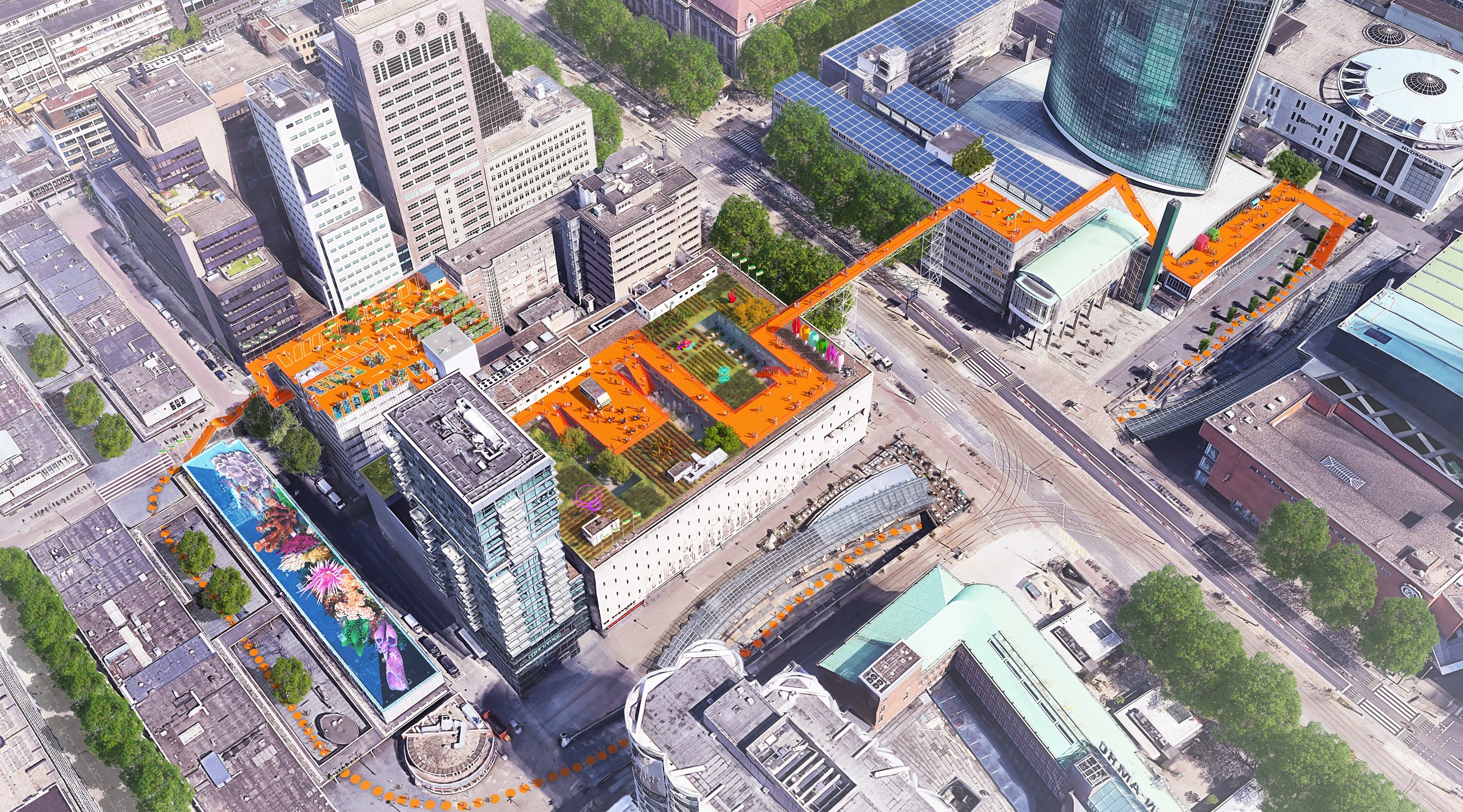 An initiative of Rotterdam Rooftop Days, the Rotterdam Rooftop Walk was designed by MVRDV in collaboration with Rotterdam Rooftop Days. The temporary installation also has a symbolic purpose: the goal of Rotterdam Rooftop Days is to make people more aware of the potential of rooftops and the need to use them more effectively. The installation shows visitors what the city would look like in the future if the roofs were fully used for greenery, art, housing, recreation, food production, the generation of energy, and more. The exhibition on the second layer of the city includes a tiny house, visions from artists, and innovative examples of water retention and green roofs.
Construction of the Rotterdam Rooftop Walk has now started, and the development of the section over the Coolsingel can be viewed via livestream on YouTube.
Rotterdam Rooftop Walk is built by Dutch Steigers and is open from 26 May to 24 June 2022 from 10:00 to 20:00 (entrance € 3.50 for adults, children free). During the Rotterdam Rooftop Days festival weekend (3 to 5 June), 34 other roofs in the city can be visited in addition to the Rooftop Walk.