Tripolis Park, the office project in South Amsterdam designed by MVRDV for developer Flow Development, is now fully leased as law firm De Brauw Blackstone Westbroek has signed an agreement for approximately 18,000 square metres. This is the second prominent tenant to plan a move into the complex, after Uber announced in 2020 that it would be renting a large part of the building.
With its design, MVRDV breathes new life into the listed buildings designed by celebrated modernist architect Aldo van Eyck, the final project of his career completed in the 1990s. The project respectfully renovates and transforms the existing Tripolis buildings into a contemporary office complex. Many familiar Van Eyck elements are being retained, from the colour scheme of the window frames – red and orange at the centre of the complex, blue and green for the periphery, and yellow and purple for the transitions – to the staircases and the natural stone floors.
An important part of the project is the new addition, a 50-metre-high "landscraper" placed between Van Eyck's buildings and the A10 motorway. This literally acts as a screen between the campus and the motorway, protecting the heritage buildings from the pollution and noise created by the motorway. The new building has a rigid, business-like appearance on the south facade, while the north facade is "dented" by the presence of the existing buildings, creating an exciting space in the offset between the two elements. Across this space, the old and new buildings are connected by stairs and bridges. By cutting a large window out of the landscraper, the existing Tripolis buildings remain visible from the A10 motorway.
"Throughout the project, the aim was to achieve a symbiosis between old and new, in which Aldo's architectural language and use of materials offered important starting points", says MVRDV founding partner Winy Maas. "The new buildings form a protective layer, as it were, for his monument. The buildings react to each other, creating a noise-free space in between that will soon be accessible to the public."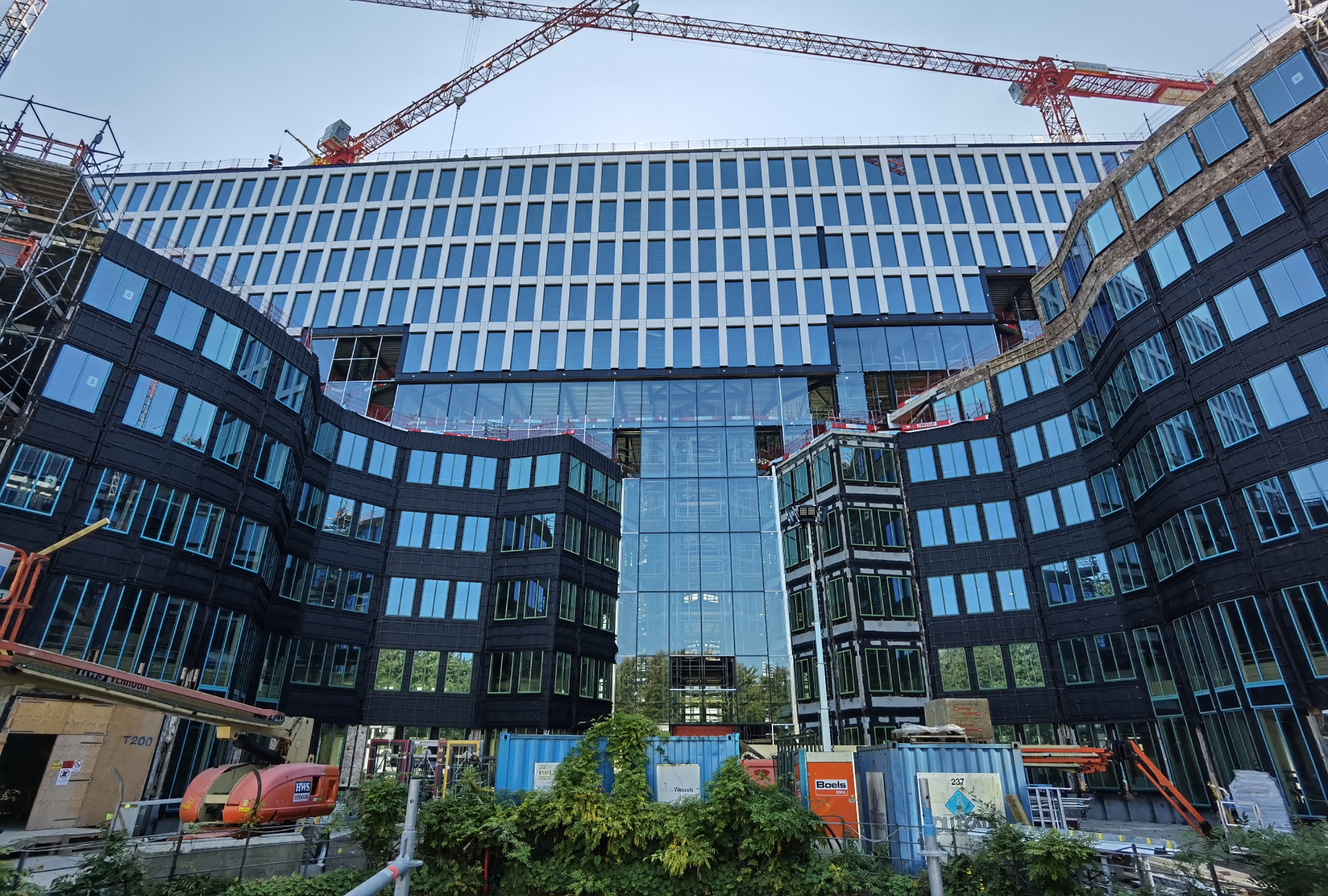 Sustainability is a driving force in the transformation: the historic project has been preserved and made more sustainable, with materials from the old building being reused where possible. The roofs of the existing buildings will be improved with rooftop gardens and catering facilities, while the roof of the addition provides a surface for solar panels. Tripolis Park will be awarded two certificates: BREEAM-NL Outstanding and the WELL Platinum certification, the highest possible healthy building certification.
Tripolis Park is currently under construction. When the project is completed in mid-2022, it will become the new green campus of Amsterdam Zuidas.
Read more about the Tripolis Park project here.