Currently, many international museums can only showcase six to seven percent of their collections in exhibitions. The remaining 94 percent is hidden in storage. Depot Boijmans van Beuningen breaks with this tradition of concealment: the design makes visible all the previously invisible artefacts in a unique and iconic reflective building, specially designed by MVRDV to meet the requirements of this unprecedented typology. Partner Fokke Moerel will tell you all about the world's first fully accessible art depot on The New Art Depot, organized by AIA New York, where she will give a presentation and engage in a conversation about museum storage facilities with HNI director Aric Chen and AIA principal Koray Duman on October 19.
MVRDV partner Fokke Moerel was one of the first architects to join MVRDV in 1998. She leads projects with a focus on public and cultural works, transformations and interior design all around the globe. Fokke has completed award-winning designs such as the Baltyk office tower in Poznan, Poland, the Book Mountain Library in Spijkenisse and the Lloyd Hotel & Cultural Embassy in Amsterdam. Currently she leads the interior architecture department at MVRDV and she is overseeing the construction of Depot Boijmans Van Beuningen, which will open its doors in November 2021 in Rotterdam.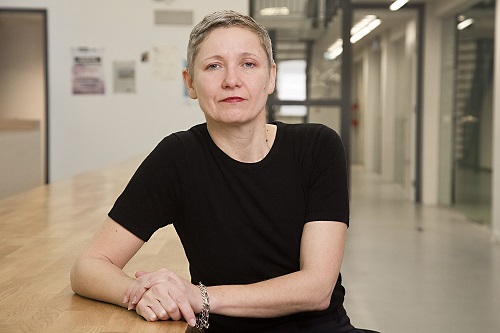 Fokke's personal drive is to collaborate on the design and realization of buildings, which have a strong connection to and impact on their direct surroundings, such as (semi) public buildings, refurbishments of monumental buildings, which can revive their neighbourhood, and buildings with a clear end-user. Fokke holds a master's degree in architecture from the Academy of Architecture Rotterdam, and a BA in interior architecture from the Willem de Kooning Academy. Fokke has taught at Harvard and Cambridge together with MVRDV cofounder Nathalie de Vries, and at the Silpakorn University in Bangkok, Thailand. She is currently tutoring at The Hague Royal Academy of Arts and is an external critic at the Academy of Architecture Rotterdam.
AIA New York organizes this online event. Join us for this virtual event to learn about the development and concepts behind two new public art storage buildings. AIA principal Koray Duman will present Büro Koray Duman's design for the Noguchi Museum's Art and Archive Building in New York, followed by Fokke Moerel's presentation of the Depot Boijmans Van Beuningen, Afterwards, there will be a conversation on these different approaches, moderated by Aric Chen, general and artistic director of Het Nieuwe Instituut. This is an online event that requires registration.
Date and time: October 19, 2021 – 18:00-19:30 (CET).
Location: Zoom
More information about the event and how to register here.