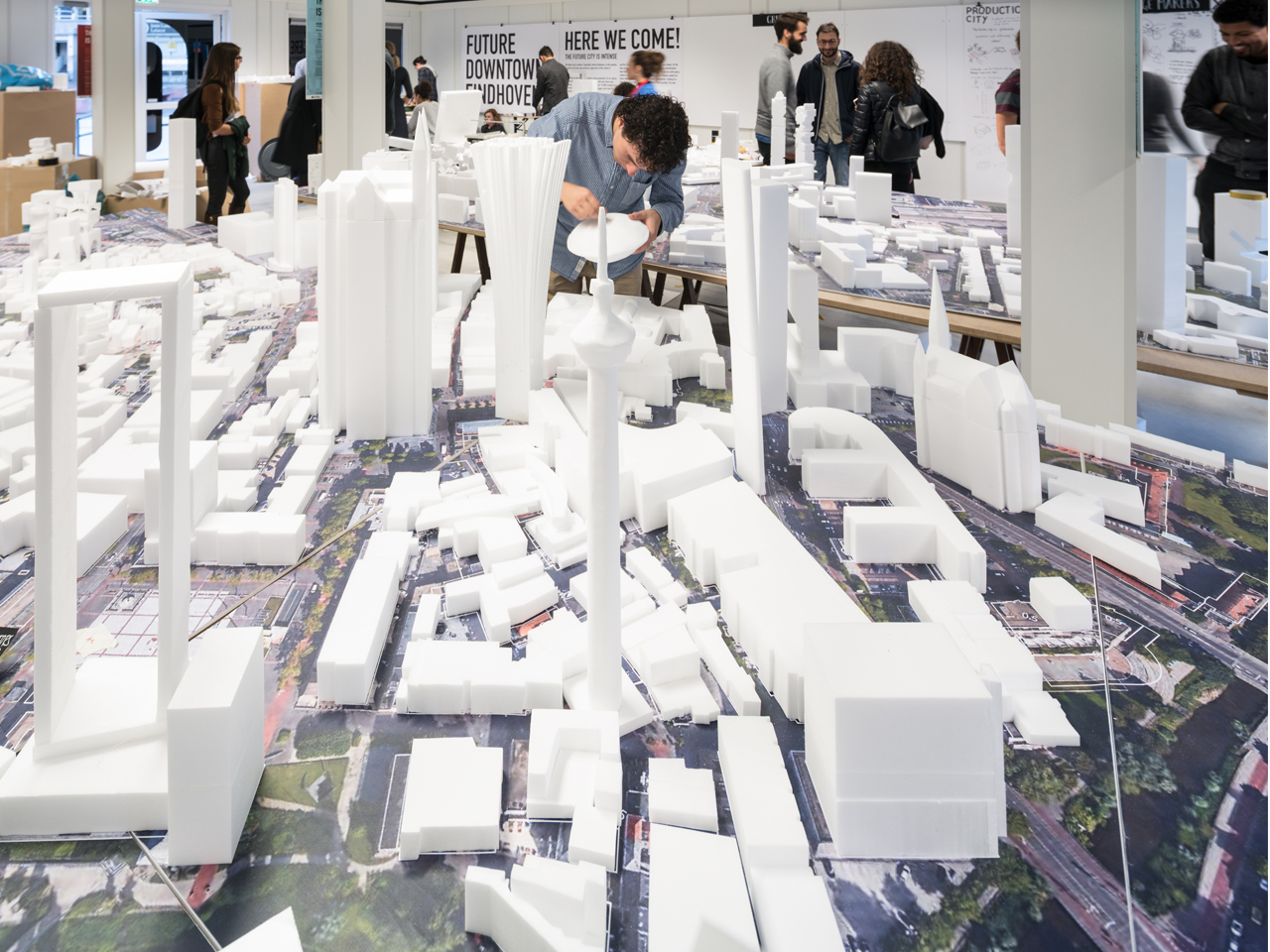 MVRDV and The Why Factory exhibition, ICI Eindhoven: Here we come at Dutch Design Week 2017
Dutch Design Week ambassador Winy Maas curates with The Why Factory Gemeente Eindhoven and TU/E, ICI Eindhoven: Here we come on the future planning of Eindhoven city centre. The exhibition is now open throughout Dutch Design Week.
The future city is intense. Especially central Eindhoven. In this pavilion, the future planning of Eindhoven city centre is formed.What is the future city of Eindhoven? How will its new pavements work? How can it be radically green? How can it intensify life and urban use?
"Ici Eindhoven: Here we come is a platform made for the public to contribute to the future of Eindhoven; a large model of the inner city is the centrepiece of this intervention," says Winy Maas. "These models are meant to trigger the debate on the opportunities of urban densification and can be arranged in multiple positions in the large city model so as to test and discuss future development scenarios."
Many people are anticipated to live in the future Eindhoven. More than 20,000 people are expected in the next 10 years. In housing units of all sizes that fit in 100 towers.
In this pavilion, the results of the masterclass with students of the Technical University of Eindhoven, the Delft University of Technology, and the Chicago-based Illinois Institute of Technology are shown.
On the base of the existing city, fantasies on the possibilities for densification have been explored. And we invite you to add more, to discuss with policymakers, scientists and economists. A true beauty contest for future towers. Each with its own contribution and agenda. Leading to a town that will be more intense, more diverse, more exciting. The new Rotterdam of the South. Here we come!
Visitors are invited to contribute to the existing installation with drawings, writing on walls and model making.
Two events will take place this week at the pavilion:
25th October: 9:00-10:00 Winy Maas in conversation with Alderman Wilbert Seuren
26th October: 11:30-12:30 Winy Maas in conversation Eindhoven municipality & TU Eindhoven
The installations have been made possible with help from many sponsors including De Meeuw, Dutch Design Week, Gemeente Eindhoven, Van Beek Art Supplies, TU Delft, TU Eindhoven and Keeper Development.
Dutch Design Week takes place between 21 - 29 October and for more information, tickets and how to visit please check the website here