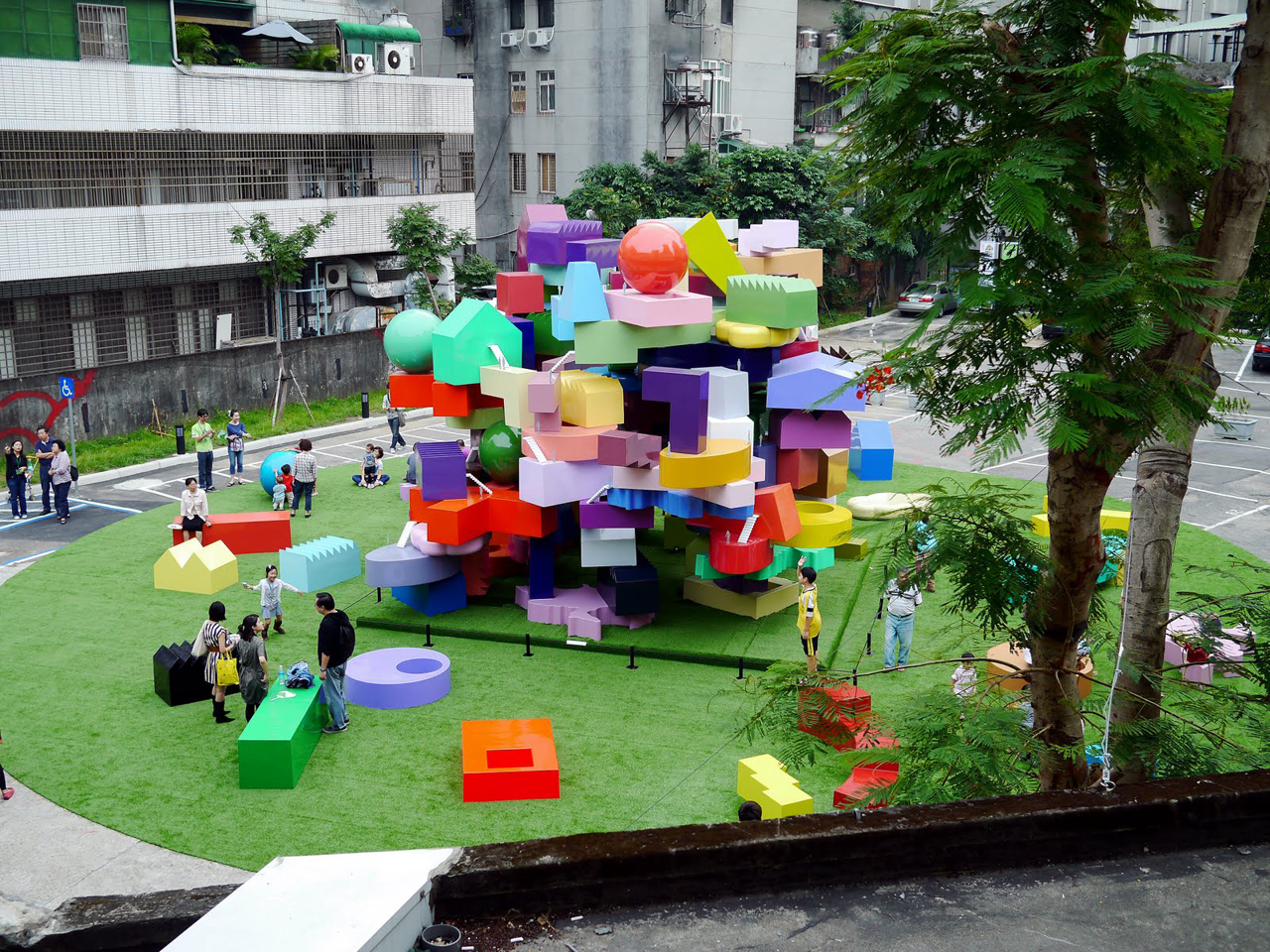 Vertical Village Taipei
This exhibition and accompanying book explore the idea of a contemporary "vertical village", a three-dimensional community that restores personal autonomy, diversity, flexibility and neighbourhood life to cities in Asia. It features innovative designs for high-rise structures, detailed case studies for Tokyo, Beijing, Shanghai, Taipei, Djakarta, Seoul and Bangkok. In addition to this content, the exhibition featured a public art installation, a series of lectures and symposiums, and a book in both Chinese and English.
For centuries, the fabric of East Asian cities has consisted of urban villages that are built up of small scale, informal, often 'light-weight' architecture. These urban villages form intense, socially connected communities where strong individual identities and differences are maintained. Because they are, and have always been, inhabited mostly by the poor, land is cheap – and therefore, change comes easily...
Driven by demographic and economic forces, these cities are rapidly changing. In a relentless 'Block Attack', massive towers, slabs and blocks with repetitive housing units, floor plans and facades are invading – scraping away the urban villages that have evolved over hundreds of years. These alien buildings provide a Western standard of living, while destroying indigenous communities in the process. They obstruct urban innovation and discourage diversity, flexibility and individually tailored ideas.

Is there a better way to develop these areas? Could we densify them without sacrificing the informality of the urban village? Could we apply the principles of informality to generate new neighborhoods? What if we could develop urban villages vertically, as an alternative to the monotonous sea of blocks?
This approach could provide housing types with terraces and roof gardens that accommodate leisure activities. This comfortable lifestyle might even attract the middle and upper classes, leading to a more mixed, and less segregated, society. Homes could even be combined with small-scale offices and workspaces. In contrast to the blocks, this new village type might enable an architecture based on individual expression and identity. Just imagine a 'villa' for everybody!

To build the Vertical Village, a truly self-organized and initiated manner of city building is required– a model that combines individuality, diversity and collectivity with the need for densification, as an alternative to the Block Attack. A model that can generate a Vertical Village – a three-dimensional community that brings personal freedom, diversity, flexibility and neighborhood life back into Asian cities.
© all rights reserved